Recorders: from the contrabass to the descant (that's the one you played at school)
20 April 2017, 16:22 | Updated: 20 April 2017, 16:26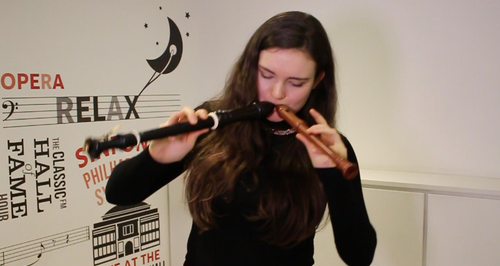 Most people are content to specialise in just one instrument but for young recorder player Sophie Westbrooke, playing the recorder means specialising in a whole handful of different instruments. We asked her to bring her recorders in and talk us through each of them
Sophie will be performing the world premiere of a Recorder Concerto by Graham Fitkin at the Vale of Glamorgan Festival next month.
Ahead of that concert, she popped in to the Classic FM studio to talk us through the range of recorders she plays, from the enormous contrabass recorder to the tiny descant.
Recorders: from the contrabass to the descant
She also showed us what some of the instruments can do.
Here's a fanfare by Bob Margolis
And here's a piece called Big Baboon
By Dutch composer Paul Leenhouts – and it involves playing two of the recorders *at the same time*