Pioneering early music conductor Nikolaus Harnoncourt dies at the age of 86
6 March 2016, 13:40 | Updated: 6 March 2016, 14:13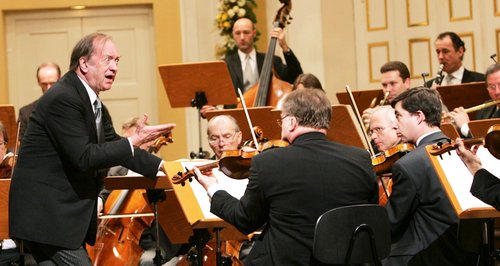 The Austrian conductor, best known for his work on Baroque music, has died at the age of 86.
The great conductor Nikolaus Harnoncourt may have been most famous for his work on Baroque and Renaissance music – but he also famously believed that every classical music performance should sound like a premiere, no matter how long ago the music was written.
Nikolaus Harnoncourt studied cello at the Vienna Academy of Music and joined the city's symphony orchestra in 1952.
But only a year later he founded the Concentus Musicus Wien to allow him to focus intensively on Baroque and Renaissance music and performance practice. He was one of the first musicians to focus on early music performance practice and it is for his work in this area for which he is best known.
In 1971 he made his debut as a conductor at the Theater an der Wien with Monteverdi's Il ritorno d'Ulisse in patria.
He went on to conduct a cycle of Mozart operas at the Vienna State Opera, Monteverdi's L'incoronazione di Poppea at the Salzburg Festival and Weber's Der Freischütz in Zurich.
Harnoncourt conducted all the world's major orchestras including the Concertgebouw Orchestra of Amsterdam, the Chamber Orchestra of Europe, the Vienna Philharmonic and Berlin Philharmonic.
In 1985 he founded the Styriarte Festival in his native city of Graz and conducted there many times including, in 2014, a production of Purcell's The Fairy Queen.
His discography covers all the major works of the Baroque era – and much more. Highlights include recent recordings of Beethoven's Fourth and Fifth Symphonies with the Concentus Musicus Wien, Bruckner's Ninth Symphony with the Vienna Philharmonic Orchestra, Purcell's The Fairy Queen and Bach's St Matthew Passion, both with the Concentus Musicus Wien.
He announced his retirement on 5 December 2015 at a concert with the Concentus Musicus Wien, for which Erwin Ortner stood in for Harnoncourt. In a farewell note in the programme, Harnoncourt wrote:
"Dear audience, my physical strength required me to cancel my future plans. Great ideas have arisen, and an incredibly deep relationship has developed between us on the stage and you in the hall – we have become a happy community of discoverers! The current season is still at the forefront of my mind; stay true to it! Yours, Nikolaus Harnoncourt."
Writing in Gramophone, Harnoncourt's pupil Thomas Fey said: "Without him, the historically informed performance practice as we know it today would hardly be possible."