Three beautiful Cathedral city escapes in South West England
31 May 2018, 16:41

Promoted by South Western Railway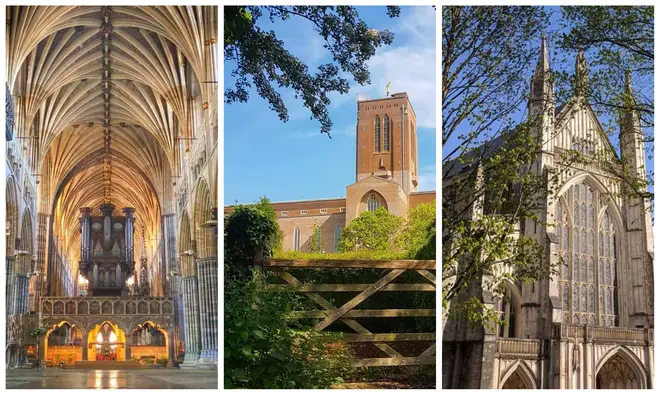 Few things are finer than a trip to one of our country's historic Cathedral cities. It's a chance to connect with history, explore ancient buildings, and all just an easy train journey away...
Winchester
An hour out of London on the train and you can be striding into Winchester Cathedral - and it's a biggie. This beast has the longest nave and greatest overall length of any Gothic cathedral in Europe (so a long piece for the entrance of the Bride, please). You can explore the interior and find the resting place of Jane Austen, and you can time it with a service or organ recital and indulge in its fantastic musical tradition. For over 1000 years, this has been one of the world's most important musical centres. Back in the year 900 or so, a monk called Wulfstan the Cantor (who was a hugely important figure in the history of music and notation) performed on this very site. Fast-forward a millennia, and you can hear brilliant choirs of both boy and girl choristers, accompanied by one of the country's finest organs. It's surrounded by lovely courtyards and gardens - so you can just sit outside in the sun and soak in the beauty. 
Guildford
You might be in the heart of the capital's stock-broker commuter belt, but you'll always find some good music happening here. You'll find a different sort of cathedral, built majestically on top of a hill and visually unlike any other you're likely to find in the country. Katherine Dienes-Williams is music director and, very notably, the first woman to hold a top musical post in the Church of England.The city has a lovely cobbled High Street and Norman castle to explore too, and the Georgian Holy Trinity Church at the top of the high street (which was actually Surrey's pro-Cathedral before the current one was consecrated) is also worth popping into, with its own choirs and music festivals.
Exeter
It's a little further down the line, but it's always worth journeying through the beautiful countryside to reach the great cultural hub of Exeter. You can pass the time with the cathedral's astronomical clock, find a moment's rest with some fancy misericords (ancient folding seats, obviously), and strain your neck admiring the longest uninterrupted vaulted ceiling in England. Organist Tim Noon heads up one of the country's finest choirs, and you'd be a fool to miss out on their Evensong - ideal for when you need some musical refreshment after a day exploring Rougemont Castle and the other delights within the city's Roman walls.