A definitive ranking of Phoebe Buffay's best songs from Friends
10 July 2020, 10:55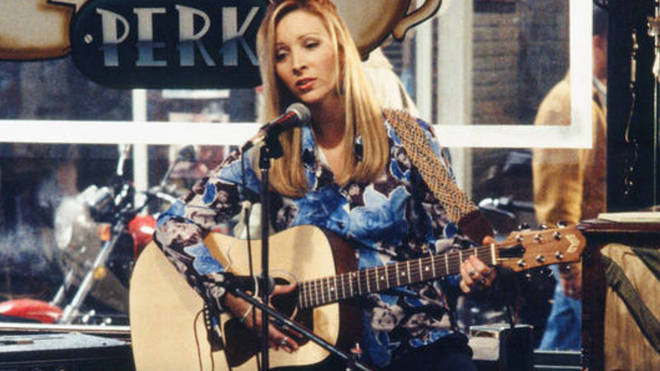 In previous features, we've critiqued and ranked Mahler symphonies and post-Romantic piano concertos. So now it's time greatest songs written and performed by Phoebe Buffay.
Tears were shed and friendships ruined making this list. Without further ado, here are the definitive top 10 songs by Phoebe Buffay in Friends.
'Crusty Old Man'

And a crusty old man said,
"I'll do what I can,"
and the rest of the rats played maracas.

We may only hear the last few lines of this song, but it's Phoebe's musical genius at its best. The vivid imagery, the intricate story line and, of course, musical rats. What on earth is this about? And where are the other rats? It's completely absurd, and we have all the time in the world for it.

'Babies'

They're tiny and chubby and so sweet to touch,
and soon they'll grow up and resent you so much.
Now they're yelling at you and you don't know why,
and you cry and you cry and you cry.
And you cry and you cry and you cry and you cry...

Maybe the waiting room of the maternity ward wasn't the right audience for this one, but we love Phoebe's lack of tact.

'Don't Take No'

Bum-bum-bum
Don't take no for an answer!
Bum-bum-bum
Don't let love fly away!
Bum-bum-bum-bum-bum-bum...

Phoebe is a girl after our own hearts, with her need to sing both the accompaniment and melody of the song. We feel you, Phoebs.

'No Power'

New York City has no power,
and the milk is getting sour.
But to me it is not scary,
'cause I stay away from dairy.
La la, la la la, la la...

Clearly, she was a trend-setter when it came to veganism.

'Sticky Shoes'

My sticky shoe,
my sticky, sticky shoe,
why you stick on me... baby.

Phoebe strays away from her usual cheery tunes when she catches a cold, and the result is 'Sticky Shoes'. Curse the day she lost her sexy phlegm...

'Snowman'

I made a man with eyes of coal
and a smile so bewitchin'.
How was I supposed to know
that my mom was dead in the kitchen?
La lalala laaa la lala La lalala la la...

A jolly tune paired with melancholic lyrics and topped off with a 'la la la' chorus (one of Phoebe's trademarks as a singer-songwriter). She brings out the bells as it's Christmas too. What's not to love about this one?

'Grandma'

Now, Grandma's a person who everyone likes,
She bought you a train and a bright, shiny bike.
But lately she hasn't been coming to dinner,
And last time you saw her she looked so much thinner.
Now, your mom and your dad said she moved to Peru,
But the truth is she died and some day you will too.
Lalala LAlalala LAlalala LAlalala La La La La.
Lalala LAlalala LAlalala LAlalala La La La La.

Funny and educational, 'Grandma' is an all-rounder with a sing-along chorus. Who could resist?

'Two of Them Kissed Last Night'

There was a girl, we'll call her Betty
And a guy, let's call him Neil
Now I can't stress this point too strongly...
This story isn't real.
Now our Neil must decide
Who will be the girl that he casts aside?
Will Betty be the one who he loves truly?
Or will it be the one who we'll call... Loolie?
He must decide, he must decide,
even though I made him up, he must decide!

We love Phoebe's innate ability to be the least subtle person in the room. With some skilful masking of the names Ross and Rachel with 'Betty' and 'Neil', Phoebe manages to make Ross as uncomfortable as humanly possible – and we could watch it on loop.

'The Holiday Song'

Went to the store, sat on Santa's lap.
Asked him to bring my friends all kinds of cr*p.
He said, "all you need is to write them a song."
Now you haven't heard it yet, so don't try to sing along.
So don't sing along.
Monica, Monica, have a happy Hanukkah.
Saw Santa Claus, he said hello to Ross.
And please tell Joey, Christmas will be snowy.
And Rachel and Chandler, [mumbles something] handler!
Happy holidays everybody!

This is the Christmas gift that money just can't buy. It's hilarious and endearing in equal measure, with a sprinkle of festive ridiculousness. If Phoebe released this as a Christmas single, we're pretty sure it would shoot up to No. 1...

'Smelly Cat'

Smelly cat, smelly cat, what are they feeding you?
Smelly cat, smelly cat, it's not your fault.
Smelly cat, smelly cat, what are they feeding you?
Smelly cat, smelly cat, it's not your fault.
They won't take you to the vet.
You're obviously not their favourite pet.
You may not be a bed of roses.
You're no friend to those with noses.
Smelly cat, smelly cat, what are they feeding you?
Smelly cat, smelly cat, it's not your fault.

Of course, we'd be mad not to put 'Smelly Cat' at number one. It's a post-modern work of art and has a deep and meaningful message at its core – what are they feeding that cat?

During the ten years Friends was on our screens, 'Smelly Cat' threaded the narrative of those we grew to love as our own friends, and it's still an anthem for fans of the show today.
Honourable mentions
Of course, we couldn't fit all of Phoebe's songs on here (there are well over 50), and there were oh so many we could have included. Here are a few that didn't quite make the cut...
'Ceremony'
Who will perform the ceremony?
Who will perform the ceremony?
Just as Monica and Chandler get engaged and Phoebe isn't asked to play at their wedding, she comes up with this chromatic work of art.
'Double-Jointed Boy'
...was the double, double, double-jointed boy.
Sadly we only catch the end of this song, but we think Phoebe's audience at Central Perk were in for a real treat with this one.
'Colours'
...and fuchsia and mauve.
Those are the 66 colors of my bedroom.
We don't doubt for a second that Phoebe's bedroom actually has 66 colours in it. What we would like to know though, are what are the other 64?
'Holiday Song'
Happy Hanukkah, Monica.
May your Christmas be snowy, Joey.
Happy New Year, Chandler and Ross.
Spin the dreidel, Rachel!
Although this song already made it into the top 10, Phoebe sings another version of the song as she's still working on it, and we think it's pretty splendid as-is.
'Emma's Birthday Song'
Emma,
Your name poses a dilemma,
'Cause not much else rhymes with Emma.
Maybe the actor Richard Crenna (he played the commanding officer in Rambo).
Happy Birthday Emma!
Hats off to Phoebe for doing her best to entertain a tough crowd at Emma's first birthday party – cue Joey who completely overshadows her song with a dramatic reading of Love Me Forever.
Today, we think this, like all Phoebe's songs, deserves its chance to shine.
Here's a video containing every single one of Phoebe Buffay's songs. You're welcome.