Erin McCarthy stuns America's Got Talent judges by singing opera while riding a horse
12 August 2020, 15:52 | Updated: 13 August 2020, 15:50
Opera sounds great – neigh, excellent – on a horse.
Erin McCarthy, a contestant on America's Got Talent, left all four judges in a stupor with her unusual virtual audition.
As the camera pans out to McCarthy's stage – a field, naturally – it soon becomes clear she is sitting on a horse. She then proceeds to sing an operatic passage, while riding said farmyard animal.
Her voice, although it's unclear what she's actually singing, is powerful and not at all horse (sorry).
It appears that McCarthy, a voice teacher and aspiring opera singer, lives on that very farm, in rural Oregon.
When asked by Simon Cowell what her "dream" is, she replies: "When I was younger in my early 20s, I tried to make a go of an opera career, and for whatever reason life happened and it just didn't work out."
Read more: Violinist Ray Chen plays a beautiful serenade for two horses >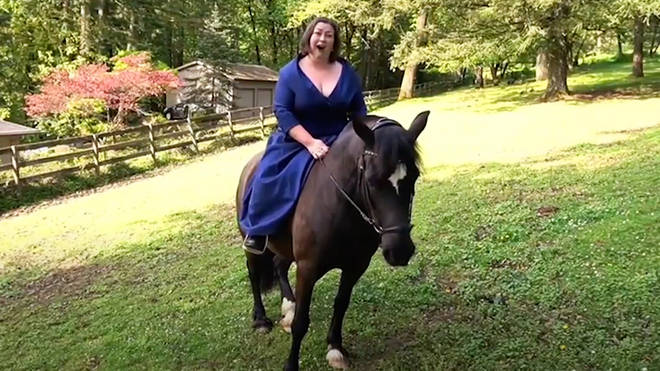 She continues: "So, I'm really, really hoping that this is a fresh start for me as a singer and that I can get back on the horse."
McCarthy then proceeds to sing a series of high notes in an operatic style, while sat on her trusty steed, cueing judge, actress Sofia Vergara, to exclaim: "She's on a horse!"
Read more: 10-year-old opera singer blows AGT judges away with 'Nessun dorma' >
After really taking the reins with her first audition, McCarthy gets three 'yes's (a 'no' from Simon, sadly) and goes through to the next round.
But, alas, it appears she was eliminated prior to the Judge Cuts stage of the talent show. So, this was the last we heard from Erin on AGT.
We look forward to the next time we can watch her – and her beautiful horse – foaling around.