Calls for 'The Star-Spangled Banner' to be replaced with a new US national anthem
1 July 2020, 09:22 | Updated: 1 July 2020, 15:24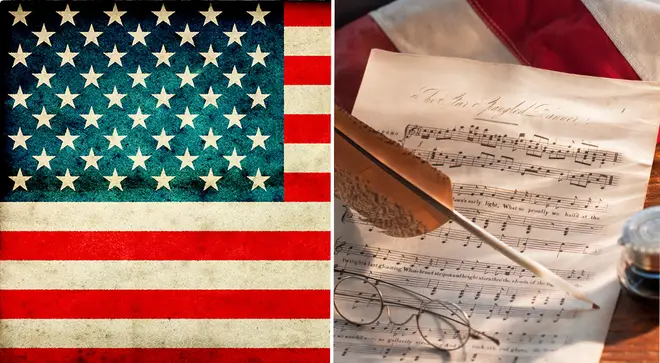 Musicians and historians suggest the anthem, which was written by a 19th-century slave owner, has run its course as America's national song.
After weeks that have seen mass protests about police brutality, the toppling of monuments, and calls for racial justice, some figures are now pointing to the US's national anthem. As calls for change continue as part of the Black Lives Matter movement, the troubling history and slavery links of 'The Star-Spangled Banner' are being brought up for discussion and debate.
One American student recently refused to sing it at her virtual graduation ceremony, instead performing 'Lift Every Voice and Sing', often referred to as the 'Black national anthem'. Four years ago, San Francisco 49'ers quarterback Colin Kaepernick famously refused to stand during the playing of the national anthem. President Obama supported Kaepernick's right to protest, saying it was his 'constitutional right' to stay seated.
An article by Yahoo Music's Editor in Chief, Lyndsey Parker, asks if it's time to adopt an anthem with a "more inclusive message". Speaking to Parker, historian and scholar Daniel E. Walker agrees. He says: "The 53-year-old in me says, we can't change things that have existed forever. But then there are these young people who say that America needs to live up to its real creed.
"And so, I do side with the people who say that we should rethink this as the national anthem, because this is about the deep-seated legacy of slavery and white supremacy in America, where we do things over and over and over again that are a slap in the face of people of colour and women. We do it first because we knew what we were doing, and we wanted to be sexist and racist. And now we do it under the guise of 'legacy.'"
Here's what we know about 'The Star-Spangled Banner'…
Read more: What are the lyrics to The Star-Spangled Banner? >
Whitney Houston - Star Spangled Banner
Let's start with what we know: what are the anthem's origins?
The words to 'The Star-Spangled Banner' come from an 1814 poem, 'The Defence of Fort McHenry', composed by American poet Francis Scott Key.
After watching over a scene during the Battle of Baltimore, when a huge battle flag flew over Fort McHenry after US forces fought off an attack by British forces, Key took pen to paper and wrote of America's victory over the British.
Around 40 years earlier, British composer and early musicologist John Stafford Smith wrote a tune called 'The Anacreontic Song'. The two were put together and it became a drinking song. It wasn't until 1931 that it was adopted as the official US anthem.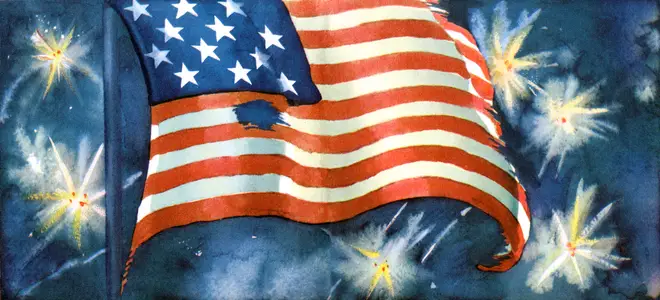 Who was Francis Scott Key?
Francis Scott Key was many things: a poet, lawyer and author. Significantly, he was also a slave holder. Born in 1779, Key grew up in an old Maryland plantation family and went on to become the US district attorney for Columbia, in Washington state.
During his time in the post, he actively suppressed slavery abolitionists. And though he later spoke out about the cruelty of human slavery, he never did anything to eradicate the system when he was in a position of power.
Key's 'Star-Spangled Banner' lyrics were widely accused by abolitionists of being hypocritical. In 1836, a newspaper detailed the reality of human slavery in the US under the headline 'Land of the Free/Home of the Oppressed'.
Just days ago, Key's statue in San Francisco's Golden Gate Park was toppled by protesters during demonstrations against racial injustice.
What are the lyrics to 'The Star-Spangled Banner'?
'O, say can you see...' sings the 'The Star-Spangled Banner'.
The anthem tells of American victory over the British (Key saw the American flag as the smoke cleared on the battle scene, in 'the dawn's early light'). The 'rocket's red glare' and 'bombs bursting in air' are all about the fear surrounding Britain's attack on the Americans. This first verse is the part that's sung at most sporting events.
But it's the little-sung third stanza, which contains the line 'No refuge could save the hireling and slave; From the terror of flight and the gloom of the grave', that historians have deemed problematic.
The meaning behind Key's 'slave' is still up for debate. Some argue the word referred to British forces as a whole. Others, including historian Jason Johnson, say the line is a derogatory reference to black slaves who had joined the British Colonial Marines to fight in the war of 1812.
What most historians agree on, is that people are simply unaware of the song's history.
Read more: What are the lyrics to the US National Anthem, The Star-Spangled Banner? >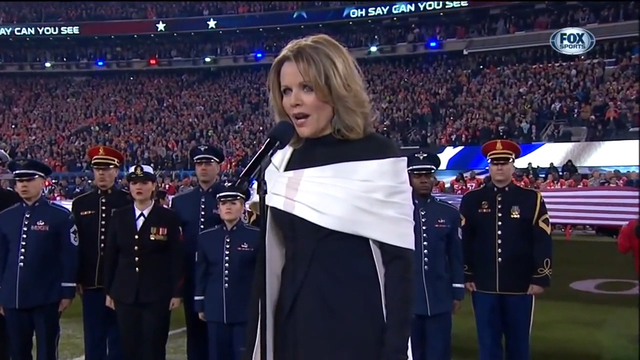 Renée Fleming- Super Bowl 2014 National Anthem
What could 'The Star-Spangled Banner' be replaced with?
Since it was implemented in the early 20th century, 'The Star-Spangled Banner' has been sung by everyone and their mother. Stars from Whitney Houston to Marvin Gaye, and opera star Renée Fleming (watch above), have put their own take on the song. We've heard it at pretty much every sporting event with a US team, including the Super Bowl, and it is without doubt one of America's most popular patriotic tunes.
But, as historian and scholar Daniel E. Walker asks, is 'tradition' really a good enough reason to keep something?
Activist and journalist Kevin Powell, also speaking to Yahoo Entertainment, says he thinks artists will soon start refusing to sing Key's lyrics at sporting events like the Super Bowl.
Marvin Gaye February 13, 1983 The National Anthem
'Lift Every Voice and Sing', which many will recognise from Beyoncé's famous 2018 Coachella set, is a popular contender for a replacement anthem. We also heard 28 black opera singers recently perform a very powerful, virtual version.
There have also been calls to replace the anthem with John Lennon's song for peace, 'Imagine'.
Of course, there's also the option to un-write the third verse completely, as Germany has done with the famously problematic verses of its own anthem. After all, only the first verse of 'The Star-Spangled Banner' is commonly sung today.
But, that doesn't take away its history. Seems the jury's still out on this one, for now...