How do you sing in a musical theatre style? West End star Kerry Ellis explains
26 February 2020, 15:17 | Updated: 27 February 2020, 15:32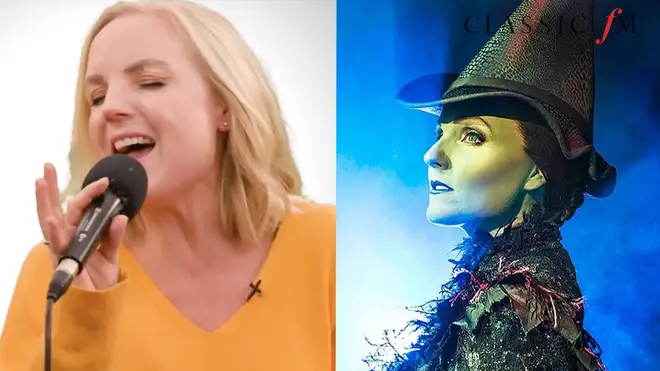 The musical theatre voice: it can break us down and bring us up in the best of ways. We asked West End and Broadway star Kerry Ellis to show us how she does it…
Think of the greatest musical theatre song. Is it 'Memory' from Cats, that makes you want to sing into your hairbrush and lean melancholically against a raindrop-smattered window?
Or perhaps 'Defying Gravity' from Wicked, whose final verse makes your heart race and whose cross rhythms make you feel ready to take on the world?
In the latest video for Classic FM's Discover Voices series, we asked the phenomenally talented Kerry Ellis, who was the first British actress to play Elphaba on Broadway, to talk about her voice and how she maintains it eight shows a week.
How do you warm up for singing in a musical?
Being a musical theatre singer is "tough", Kerry says. "You have to learn to sustain your voice, to make sure you can last those eight shows, have one day off and recover, then be ready to go again.
"It's all about maintenance, taking care of yourself and not pushing too much."
To get your voice in gear before a show, Kerry has a few tips on vocal exercises – from a classic tongue-twister like 'Red Lorry, Yellow Lorry' to simply breathing in for four, and out for four.
For ironing out any glitches, she suggests singing the first line of the chorus to 'Somewhere Over the Rainbow', moving up one whole note every time (watch below).
Vocal Exercises For Musical Theatre Singers | Discover Voices | Classic FM
How do you sing in a musical theatre style?
It's by no means an easy question. There are loads of different types of voices in musical theatre, because there's a huge range of characters. The soprano who does the silvery 'Think of Me' cadenza in Phantom of the Opera sings in a completely different style to Judi Dench's powerful speak-singing in 'Send in the Clowns'.
Kerry, who has sung in countless musicals in the West End from We Will Rock You to Wicked, says the best thing to remember is that musical theatre is "all about acting through song".
"The song is just an extension of the scene. I always try and learn the lyrics and text first, and make it work as a piece of dialogue, then I add the voice."
That even applies to the big, belting ballads – whether it's 'Being Alive' or 'I Dreamed a Dream' (watch below).
Read more: Here's why Defying Gravity makes your heart race every single time >
How To Sing In A Musical Theatre Style | Discover Voices | Classic FM
And the 'growl'?
"I have this thing called a growl..." Kerry laughs. "I don't really know how it happened or where it came from, but it became my thing."
If you haven't heard it, skip to 2:30 in the video below, in which Kerry sings a spectacular, soaring rock version of 'Defying Gravity'.
But be careful trying your own growls at home, she says...
"It didn't wreck my voice, but I think if I overdid it, it would last the impact for starters, but it would also damage my voice. If you try a growl, just make sure you're safe and you sit back on it, and don't push it."
Kerry Ellis - Defying Gravity
How to belt (and the origins of belting...)
Belting can sound a bit like yelling. But it's actually a very specific technique, where the singer mixes their lower and upper voice together. Done well, it's a fantastic high-energy sound with lots of ping to it.
"But the key is to not over-sing, to not push, because you're never going to get through eight shows a week. You have to sit back on it," Kerry says.
"You want to keep it nice and open and relaxed, so you're not restraining at any time. All the support, all the breath, everywhere but [in the throat], so you don't damage your voice.
"Although it sounds open and full, and very strong, it's not shouting or screaming. I've always used my whole body to sing. If I don't come off from singing a song exhausted – body, heart, soul, voice, then I feel I haven't done it properly."
While she's on the subject, Kerry has an interesting anecdote about where belting comes from...
"We're actually all born with a natural, belting voice," she says. "If you hear a new-born baby shout, they'll have that nice twangy sound. It's a nice open sound that's not restricted in any way.
"So, you're actually born a brilliant belter. It's just about developing that voice and taking that belt a bit further forward."
How To Belt Safely (And Where Belting Comes From!) | Discover Voices | Classic FM
Catch Kerry Ellis in the Queen Machine Symphonic tour in April, as she joins forces with Queen tribute band, Queen Machine, and the 15-piece London Symphony Rock Orchestra in an all-new staging of Queen's music.