The Irishman soundtrack: theme composer and every song in the Martin Scorsese movie
29 November 2019, 11:46 | Updated: 29 November 2019, 13:43
'The Irishman' was a huge coup for Netflix – and the score is a perfect match for Scorsese's genius. Here's every song from the gangster epic, including Robbie Robertson's mournful theme.
When he was brought onto The Irishman, composer Robbie Robertson (The Wolf of Wall Street) was told to make music "left of centre – if you do something too typical, it brings things down".
His theme has a smoky, old-school Western feel, and a melody led by a melancholic solo harmonica that trades duty with a mournful cello. It's slow, rumbling and surely one of Martin Scorsese's best.
Robertson, who has worked with Scorsese for more than 40 years, told THR: "Marty wasn't interested in a traditional movie score. Big bum-dah-ba-dum-brrrring, you know — when they're driving fast, it's going bum-bum-bum, s*** like that."
The three-and-a-half-hour mobster movie follows Robert De Niro, a truck driver who becomes a hitman for an Italian criminal family and crosses paths with Teamster Jimmy Hoffa, played by Al Pacino.
"It's a very strong mood, and I've never seen a gangster movie with this kind of tonality before," says Robertson. "It was tricky."
Read more: Bradley Cooper to star in and direct Leonard Bernstein biopic >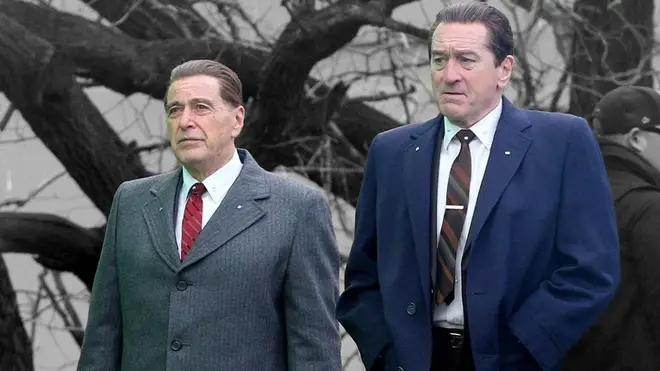 Robertson also faced the challenge of writing sometimes timeless – as The Irishman spans multiple decades.
"I've never, ever had to write music before that could suit … all of these decades," he says. "I had to find something that had a timeless mood and quality to it, that it doesn't matter what part of the picture you play this in."
Alongside his theme, we hear a selection of old dancehall songs and jazz bar classics. See them all below or listen to the full soundtrack on Spotify.
'In the Still of the Night' – The Five Satins
'Tuxedo Junction' – Glenn Miller & His Orchestra
'I Hear You Knockin'' – Smiley Lewis
'The Fat Man' – Fats Domino
'El Negro Zumbón (From the Motion Picture Anna)' – Flo Sandon's
'Le Grisbi' – Jean Wetzel
'Delicado' – Percy Faith & His Orchestra
'Have I Sinned' – Donnie Elbert
'Theme for The Irishman' – Robbie Robertson
'Song of the Barefoot Contessa' – Hugo Winterhalter & His Orchestra
'A White Sport Coat (and a Pink Carnation)' – Marty Robbins with Ray Conniff
'Canadian Sunset (Single Version)' – Eddie Heywood
'Honky Tonk, Pt. 1' – Bill Doggett
'Melancholy Serenade' – Jackie Gleason
'Qué Rico el Mambo' – Pérez Prado
'Cry' – Johnnie Ray & The Four Lads
'Sleep Walk' – Santo & Johnny
'The Time Is Now' – The Golddiggers
'Al Di La' – Jerry Vale & The Latin Casino All Stars
'Pretend You Don't See Her' – The Latin Casino All Stars
The Irishman is out now on Netflix.