Does this secret chord turn every song into a Christmas song?
12 December 2017, 13:50 | Updated: 12 December 2017, 14:34
The secret chord that makes Christmas music sound so Christmassy
04:56
There's a reason Christmas music makes us feel so darn happy – and it's all down to a touch of music theory.
Mariah Carey's 'All I Want For Christmas Is You' was released in 1994, and it's one of the most popular Christmas songs of all time. This is a pretty big feat, considering the popularity of her predecessors' songs: 'White Christmas', 'Christmas (Baby Please Come Home)' and 'Have Yourself a Merry Little Christmas', among others.
So, what is it about Mariah's track that makes it so special? Vox has an idea.
Read more: What makes Christmas music so Christmassy?
Firstly, Vox compares it to 'Christmas (Baby Please Come Home)', sung by Darlene Love in 1963. The introductions are almost identical, from the triplets and the sleigh bells to that comfy landing on the tonic chord when the vocals come in.
But there's something even more special about 'All I Want For Christmas Is You', which is also evident in Bing Crosby's 'White Christmas'. Hint: it's a secret chord.
Mariah and Bing's songs both start on the tonic chord, add a seventh on the second chord, and move to the dominant on the third chord.
At this point, both songs move from that dominant chord to a lovely Christmassy diminished chord. It's described in this video as a Dm7 flat 5 or an Fm6/A flat, which looks like this: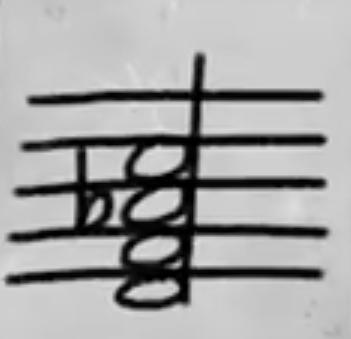 Basically, it's just a super-scrunchy diminished chord that makes us feel all festive.
But can one chord really have that much influence over a song? Adam Neely reckons it's a nice chord, but it's important to consider the context...
Here's 'All I Want For Christmas is You' (listen out for the scrunchiness):