6 things musicians should be doing on social media in 2018
9 January 2018, 11:33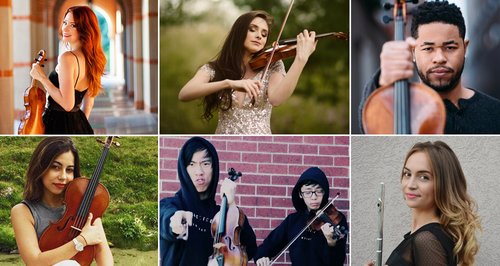 Whether you're a long-time aspiring musician or you're looking to kickstart your career in music this year, here are some tips on how to succeed from the best musicians on the Internet.
1. Be yourself
It's a lot easier said than done, but the truer you are to yourself, the greater chance you have at being an online music sensation.
"So many people are trying to be someone else or emulate someone else's lifestyle on social media and it's refreshing when you find a person who is completely and honestly themselves," says Chloe Trevor, a violinist with 146,000 followers on Instagram. "There is only one you – let the world see you shine!"
So if like Chloe, you're feeling poorly and want to post a video of yourself playing Mendelssohn's Violin Concerto in a unicorn onesie, you should definitely do it.
2. Talk to your audience
French Instagram violinist Esther Abrami advises to "help your followers to enter your musical world". Your social media followers love to watch performance videos, but remember that most of your followers won't have a degree in music.
10 reasons you should take up a musical instrument
Esther encourages aspiring musicians to "interact with your audience, explain to them the story behind the piece you are playing or introduce them to a new piece of music… it isn't often people can enter the intimate world of a musician so when they do, they love it!"
Here's a comparison video Esther did recently, asking her audience about the difference in sound between two violin bows:
3. Be patient
"Look at social media as a tool for documentation, not as a way to get famous overnight," says Drew Alexander Forde (thatviolakid). Whatever platform you're using, use it as a way of documenting your progress, rather than putting pressure on yourself to get thousands of new followers overnight.
"It takes 30 years to be considered an 'emerging artist', says Drew. "Be patient and simply strive to become 1% better every day!"
4. Post content that makes you happy
"Post content that inspires you," advises Chloe Trevor. "You will appear more authentic if you post content that motivates you rather than trying to post what you think the general public will like. Work hard, keep your standards high, post what you love and people will take notice."
21-year-old Esther Abrami has amassed over 100,000 followers on Instagram, Facebook and YouTube thanks to her positive, fun videos. "Forget possible criticism or self-doubt," she says. "Happiness is contagious and the joy you put in whilst filming your videos will spread to your followers when they watch it."
In the case of this video, joy = newborn kittens.
5. Don't be afraid to post 'imperfect' content
As tempting as it is to use social media as a way to post about the happiest 10% of your life, as a musician this isn't always the best way to gain followers.
Sara Ferrández is a Spanish violist on Instagram, who says she finds it "inspiring" when other musicians share their practice time or their live concerts.
"There is always some magic in the 'real thing' because almost nobody can sound daily like a CD recording right? I like to show things as natural as they are, and share my bad days of practising as well because it happens to all of us musicians."
Don't forget, the more followers you get, the more influential you become – and younger musicians will find it helpful to watch how you practise for that 10/10 performance of Bach's Double Violin Concerto you gave last week.
6. Dare to be different
"Life will always set walls of disruptions and it's up to you to break it by creating your own hunting ground," says Brett from the internet sensation duo, Two Set Violin, whose 200,000 followers on Facebook follow their hilariously geeky videos.
Flautist Ariana Piknjač has found Instagram fame with her multi-tracked flute videos. She advises up-and-coming musicians to "listen to your gut feeling, intuition however you like to call it. If you feel like sharing a collaboration of an arrangement playing the overture to Mozart's The Marriage Of Figaro with a trumpet player and you play the xylophone, WHY NOT?"
These are the best classical covers of pop songs
"Play what you think feels right at that moment. If you feel like doing a classical cover of an Eminem song, go right ahead! When you believe and whole-heartedly feel your work, trust me, people will too."
Here's a multi-tracked video Ariana did for Halloween last year, using a flute and two alto flutes. It got 14,000 views:
Now you're ready to be an online music sensation, read our top 10 tips to help you practise more effectively.