The Classic FM Family Music Box – buy it now on Amazon
10 July 2019, 08:44 | Updated: 18 July 2019, 15:26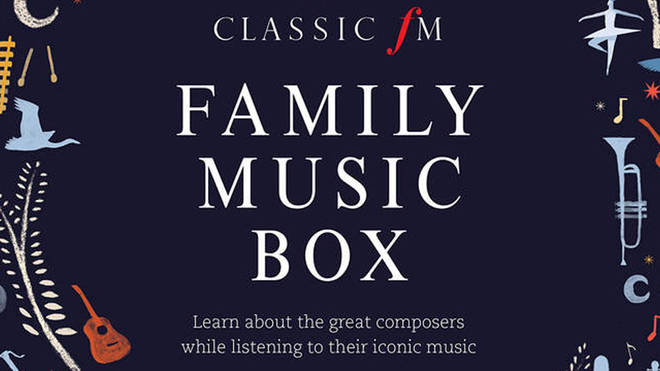 Hear iconic music from the great composers with our new interactive book, The Classic FM Family Music Box.
The Classic FM Music Box is the perfect introduction to the world of classical music.
Featuring beautiful hand-drawn illustrations and eight sound-chip buttons that play short bursts of iconic pieces of music, this unique book brings to life some of the greatest composers throughout history.
See the full track listing below:
1. Thomas Tallis: Spem in Alium
2. William Byrd: Ave Verum Corpus
3. Johann Sebastian Bach: Air on the G String
4. George Frideric Handel: Water Music
5. Antonio Vivaldi: The Four Seasons
6. Ludwig van Beethoven: Symphony No. 50
7. Ludwig van Beethoven: Für Elise
8. Wolfgang Amadeus Mozart: The Magic Flute
9. Wolfgang Amadeus Mozart: Eine kleine Nachtmusik
10. Wolfgang Amadeus Mozart: The Marriage of Figaro
11. Gioachino Rossini: William Tell Overture
12. Franz Joseph Haydn: Trumpet Concerto
13. Sergei Rachmaninov: Piano Concerto No. 2
14. Pyotr Ilyich Tchaikovsky: Swan Lake
15. Pyotr Ilyich Tchaikovsky: The Nutcracker
16. Giuseppe Verdi: La donna è mobile
17. Johannes Brahms: Hungarian Dance No. 5
18. The Strauss Family: Radetzky March
19. The Strauss Family: By the Beautiful Blue Danube
20. Georges Bizet: Carmen
21. Edward Elgar: Enigma Variations: Variations on an Original Theme
22. Edward Elgar: Pomp and Circumstance