Michael Jackson's 'Thriller' as a fugue is actually thrilling
29 March 2017, 14:44 | Updated: 30 March 2017, 14:21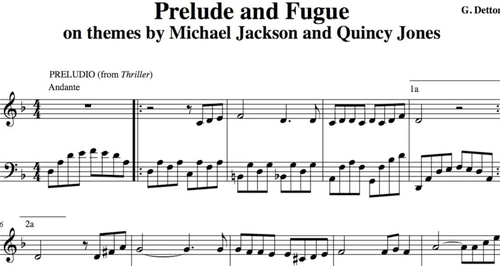 Someone's turned two tunes by the king of pop into some pretty mean Baroque counterpoint. Here are Michael Jackson's 'Thriller' and 'Billie Jean' as you've never heard them before.
Do you love Michael Jackson? Do you love counterpoint? Then are in the right place, my friend.
We've discovered a YouTuber who turns pop songs into fugues, and they are as awesome as you would expect.
artofcounterpoint, known as Giovanni Dettori, provides online counterpoint tutorials, posts some of his favourite pieces for those just getting started or wanting to expand their knowledge, and also writes his own arrangements of famous songs. There's the 'Britney Spears Counterpoint', for example, and the 'Eminem Fugato'.
You might also like (because who wouldn't?) Harry Potter as a fugue or Daft Punk in every musical style
Here's Michael Jackson's 'Thriller' and 'Billie Jean' as a Prelude and Fugue
And it's played by Luca Schieppati