This might be the most terrifying orchestra rehearsal meltdown ever recorded
28 July 2016, 10:52 | Updated: 6 January 2017, 14:45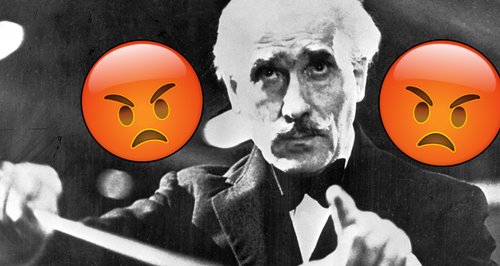 Arturo Toscanini rightly has a fearsome reputation as one of history's most exacting conductors. This is the kind of recording that proves it.
The late, great Italian conductor certainly wasn't backwards in coming forwards when it came to achieving orchestral perfection. This clip of him going completely postal during a rehearsal of Brahms' Symphony No. 2 is illuminating and scary:
Is it a good technique for getting the best out of your orchestra? You could argue that his NBC Orchestra are too terrified to make any marked improvement, but once the dust settles on his various outbursts ("NO! NO! NO! NO!") there is some kind of aural unification.
See some more intense conductor rehearsal rants
Perhaps it was a tough day, perhaps he was like that every day. Either way, it's definitely a divisive technique when it comes to getting the best out of your ensemble.