This composer has re-written The Star Spangled Banner for a post-Trump America
10 November 2016, 11:38 | Updated: 6 January 2017, 14:45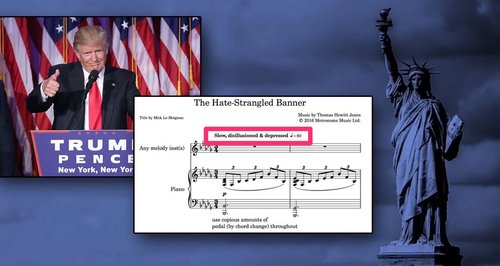 After Donald Trump's shock US election victory, composer Thomas Hewitt Jones has re-written the US national anthem to reflect the new status quo.
Entitled 'The Hate-Strangled Banner', Jones' new take on the anthem is a sombre, cello-led re-imagining of the final strains of the patriotic tune.

As you can see from the score, it's been transposed to a minor key and slowed down hugely to create a more stark atmosphere than the more usual and triumphal versions performed at sporting events.
It's not the first time Jones has tackled politics with his music, having composed a piece based on the tune former UK Prime Minister David Cameron hummed as he walked back into 10 Downing Street earlier this year.
Jones also has a Christmas record coming out very soon indeed, featuring this thoroughly festive violin concerto: