9 reasons why being a classical musician is incredibly dangerous
If you're thinking of a career in classical music, beware: there's a chance you could be shot, get stabbed, fall off scenery, be assaulted by a conductor or choke on a fishbone. Seriously.
1. You might get punched
Due to some mis-timed stage fighting (we assume), Roberto Alagna was forced to eat a knuckle sandwich during a performance of Tosca at the Royal Opera House earlier this year. According to reports, his singing improved as the show went on.
(via imgur)
2. Tripping Hazards
Back in 2006, conductor James Levine tripped and fell over on stage at a Boston Symphony Orchestra concert, sadly while he was receiving a standing ovation. He ended up with a torn rotator cuff and, presumably, a red face.
3. You could fall off some scenery
When mezzo-soprano Wendy White suffered an eight-foot fall on stage at the New York Met after some scenery broke underneath her, her career was put on ice. As a result of the fall, she suffered nerve damage making her unable to sustain long notes and stand for prolonged periods of time. She responded by suing the Met.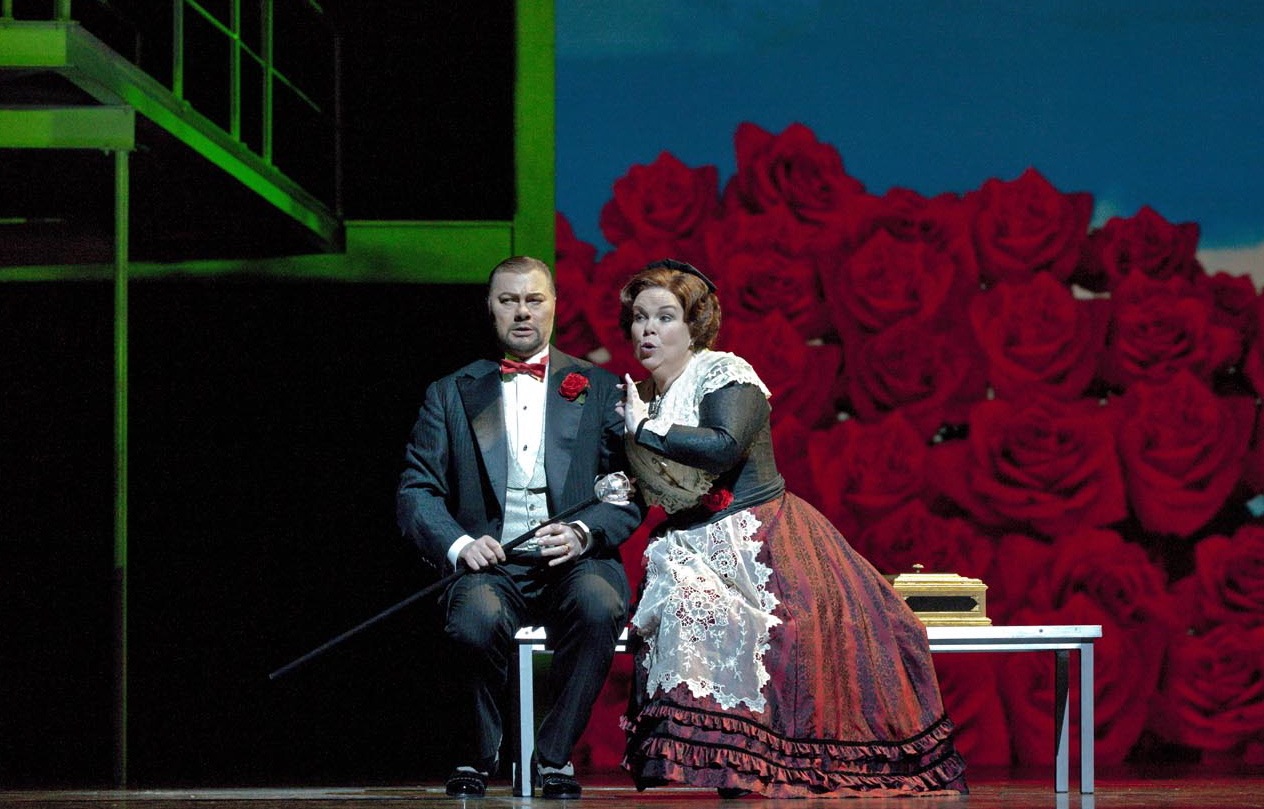 (via Ken Howard © 2011 The Metropolitan Opera)


4. You might get shot
Alright, so this one didn't happen on stage, but it's still amazing. Opera singer Stafford Hartman was outside her home in Memphis, Tenessee, when she was robbed and SHOT IN THE KNEE. Another bullet also grazed her left ear. Three days later, though, she was back on stage in Tosca, singing from a wheelchair. Stafford, you legend.
(via lifesphilosophie)

5. Or stabbed
Tenor David Rendall hit the headlines in 1998 when he mistakenly stabbed another singer on stage during a rehearsal of I Pagliacci. The stage blade that he used malfunctioned and inflicted a 3-inch cut into the abdomen of baritone Kimm Julian.
6. Hearing loss
We'll take any opportunity to reuse this gif.
7. Throat infection from a fishbone
Tenor Juan Diego Florez was forced to pull out of a performance in Chicago in 2008 because of an infection caused by swallowing a fishbone. Chew carefully before singing, folks.
8. Facial injuries from conductor outrage
Shrinking violet and all-round nice guy Arturo Toscanini once became so angry with a violinist during a rehearsal that he grabbed his bow and snapped it in his face, causing him serious facial wounds. Toscanini was subsequently charged with assault and acquitted in 1919.
(via larkable)
9. You might actually DIE
It's one of the oldest, most-told tales in classical music, but the plight of Jean Baptiste Lully is still amazingly sad and weird. Whilst stringently beating out a rhythm on the floor with his staff, the composer accidentally bopped his foot. No biggie, you might think. However, the wound got infected, turned gangrenous, caused a whole lot of blood poisoning and Lully eventually carked it.