These are definitively the most melancholy pieces of classical music in existence
7 October 2016, 15:45 | Updated: 6 January 2017, 14:45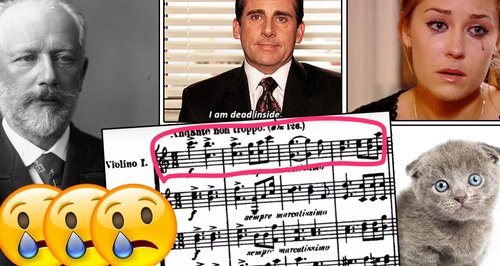 Classical music is full of melancholy moments, different from just being 'sad'. Are you feeling a bit blue? These pieces are for you.
Melancholy is different to sadness - there's something quieter, softer and more existential about it, and classical music has the best soundtrack for it.
Elgar - Nimrod

Because England is the home of melancholy, there's no better soundtrack than Edward Elgar's majestic Nimrod from his Enigma Variations. Pastoral, reflective, it almost bleeds Autumn colours. But in music. If you see what we mean. #analogies
Beethoven - String Quartet no. 14, 1st movement

None other than Richard Wagner decided that this movement "reveals the most melancholy sentiment expressed in music," so that's good enough for us.
Gorecki - Symphony No. 3, 2nd movement

The context of this piece is actually many shades darker than mere melancholy, but the sound of it is melancholy personified. Stately, subtle and sad:
Tchaikovsky - Serenade for Strings, 1st movement

Tchaikovsky would be a shoe-in for 'most melancholy composer ever', and it's thanks to pieces like this, which promise redemption but still put you through the emotional wringer. What an opening.
Pärt - De Profundis

Do you like staring out the window into the rain as you contemplate where your life went wrong? This should sort you out.
Gilbert & Sullivan - 'Ah, Leave Me Not To Pine Alone and Desolate'

A delicious interlude from all the silly prancing about these two normally come up with. Taken from The Pirates of Penzance, this is a song for those feeling lovelorn and bereft.
Weber - Clarinet Concerto No. 2, 2nd movement

Strangely, the most melancholy aspects of this towering concerto movement aren't the clarinet solos, it's in the ensemble accompaniment. The quieter, reflective section in the middle is chock-full of gravitas and dappled sunshine.