This impromptu moment of Nordic vocal music is just spine-tingling
17 May 2017, 14:45 | Updated: 17 May 2017, 14:51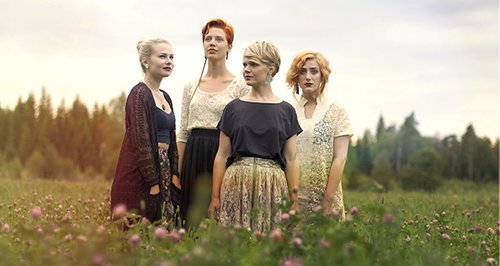 Thanks to the new music platform LaLaLa, vocal quartet Åkervinda are bringing their incredible music back to London.
Some might sit around a table to eat biscuits and natter about the weather and Eastenders - but for these musicians, it's a chance to produce an incredible, moment of music. Just listen...
Vocal quartet Åkervinda specialises in original and modern interpretations of the traditional folksongs of Scandinavia. They'll be performing at The Old Church, Stoke Newington in London Tuesday 13th June, so if you fancy an evening of beautiful, vivid and engaging Nordic folksong, you can get your tickets for Åkervinda & The Ballina Whalers here.
LaLaLa is a new vocal music platform that's helping bring this music to London and was set up by tenor, conductor and general amazing muso Ben Crawley. The aim is to support people and projects who are taking vocal music in new directions, or daring to do something a little bit different. Their website features interviews, videos, events, mixtapes and more - take a look here.
Here's another beautiful thing from Åkervinda, to give you a sense of what you can hear live...