We've just fallen in love with this La La Land medley for cello and piano
20 February 2017, 16:38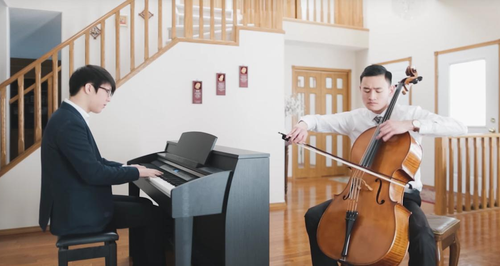 Grab your tissues...
Both the film and the soundtrack for the Academy Award nominee La La Land has been the talk of 2017 so far. Equalling the all-time record for Oscar nominations, with nods in 14 categories, we will find out this weekend if composer Justin Hurwitz will be taking home the award for Best Original Score.
If you can't wait until this weekend to hear more, you can enjoy this stunning medley of the La La Land soundtrack by cellist Nicholas Yee and pianist Sam Yang.
"La La Land is a film that has grown on me immensely since I watched it a few weeks ago, due in large part to its charming and poignant soundtrack." said Nicholas. "I'm very thankful to have collaborated with Sam Yang on this medley, and we had a great time trying to capture elements of these songs that resonated with us the most. I think we both saw this as an opportunity to step out of our comfort zones and explore a little bit of jazz sensibility."
Tune in to Saturday Night at the Movies this Saturday at 5pm for plenty of music from a selection of the nominated films, and also join Catherine Bott this Sunday at 9pm for everything you ever wanted to know about classical composers who have won Oscars – with a few BAFTAs thrown in for good measure.