12 sad violin pieces that will make you weep uncontrollably
28 June 2019, 17:18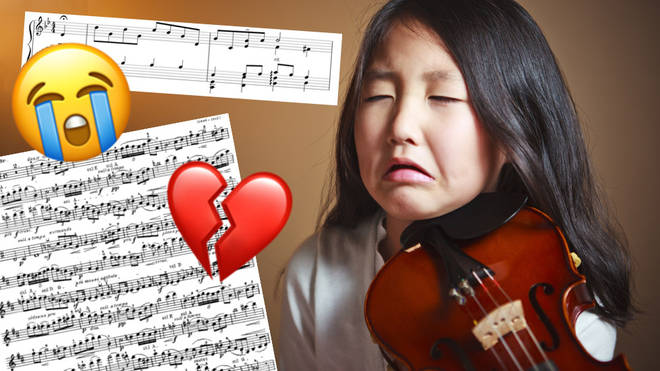 These are definitively the most melancholy pieces of violin music you've ever heard. All the rosin in the world will not be able to dry your tears.
Feeling a bit blue? These sad violin pieces are for you.
John Williams – 'Theme' from Schindler's List

Considered by many to be the finest film score of recent decades, Schindler's List earned John Williams his fifth Oscar. Williams followed director Steven Spielberg's suggestion for the soundtrack's soloist and hired the great violinist Itzhak Perlman. The film's main theme is heartbreakingly simple and touching, and is played with such passion and emotional intensity by Perlman (watch below).

Tchaikovsky – Violin Concerto (second movement)

Tchaikovsky was a notoriously tortured soul and suffered from depression throughout his life. He finished his Violin Concerto in 1878, just as he was recovering from a broken marriage and another bout of depression. The 'Andante', although significantly less showy than the first movement, is filled with light and shade, darkness and hope.

Massenet – 'Meditation' from Thaïs

In the first scene of Act II in Jules Massenet's opera Thaïs, Athanaël, a Cenobite monk, asks Thaïs, a beautiful courtesan, to leave her life of luxury and find salvation through God. She ponders it, and in her moment of reflection, the orchestra plays a symphonic interlude – the melody rising and falling as she contemplates her fate.

'Meditation' is so exquisite because it shows the incredible emotional range of the violin. And, somehow, it manages to retain all its melancholy in the cheery key of D major.

Albinoni – Adagio

The author of Albinoni's Adagio in G minor remains the point of some debate. In the mid-1900s, the Italian academic Remo Giazotto claimed to have discovered and completed a previously unheard fragment of Albinoni's music, which he found while trying to salvage manuscripts from a library that was bombed in the Second World War. Giazotto built on the fragment and produced what is known as the 'Albinoni Adagio', but should surely, at the very least, be called the 'Albinoni-Giazotto Adagio'.

Composed for string ensemble and organ, it sounds all the more heart-breaking in this arrangement for solo violin.

Ungar – Ashokan Farewell

You might not know the name, but you'll definitely recognise that achingly beautiful melody. American folk musician Jay Ungar wrote the 'Ashokan Farewell' in 1982, and for years it was played as a farewell waltz at dance camps run by Ungar and his wife. Eight years later, it was famously used as the title theme of the 1990 PBS miniseries, The Civil War. It's a melody that cries of home, and you can't help but be moved by it.

Barber – Adagio for Strings

For many, it was its poignant use in the film Platoon that makes Barber's Adagio what it is. For others, it may have been William Orbit's Pieces in a Modern Style project. The solemn, heart-wrenching sadness of Barber's music has lent itself to a range of powerful uses beyond the concert hall. Adagio for Strings was played at the funeral of Albert Einstein and can be heard on all sorts of commercials and movie soundtracks.

Tomaso Vitali – Chaconne in G minor

The earliest violins were thought to have been made to mimic the sound of the human voice – and listening to the beauty of this opening theme, it's easy to see why. A concert staple of Sarah Chang, the Chaconne sounds even more exquisite in this Romantic interpretation by the violin virtuoso.

Bloch – Nigun

In Jewish prayer, a nigun is an improvisatory chant sung without words. Ernest Bloch, considered one of the greatest Swiss-born composers in history, wrote this beautifully pensive piece in 1924, dedicating it 'to the memory of my mother'. The way the opening melody hovers around that G above middle C is simple yet haunting.

Bach – Partita No. 2 in D minor

One of Bach's best-known works for solo violin, the Partita No. 2 has great architectural beauty. As with many unaccompanied works, it is very much the challenge of the performer to create that sustained, virtuosic sound. Here it is, played exquisitely by the awesome Hilary Hahn.

Gluck – 'Melodie' from Orfeo

Gluck's 'Melodie' is surely one of the most beautiful melodies in opera. Taken from the opera Orfeo ed Euridice, based on the myth of Orpheus, the interlude wasn't intended for solo violin – but this rendition, transcribed and played by Jascha Heifetz, is just stunning (and heartbreaking).

Joseph Achron – Hebrew Melody

Jewish composer and violinist Joseph Achron composed his 'Hebrew Melody' in just half an hour, following a meaningful encounter with Salmon Rosovsky, a student of Rimsky-Korsakov and President of the New Society for Jewish Folk Music. The theme intensifies over pulsating chords, leading up to a gorgeous, full-bodied cadenza – have a listen below.

Spiegel im Spiegel – Arvo Pärt

Spiegel im Spiegel is one of Estonian composer Arvo Pärt's most famous pieces, literally meaning 'mirror in the mirror'. Originally written for piano and violin, it has a simple, meditative feel. In the piano part, tonic triads are repeated over and over, creating a feeling of the melody being reflected back and forth – like mirrors in a mirror.