Rubbish dump pianos are being upcycled as intimate amphitheatres, by this musical team
9 January 2023, 17:16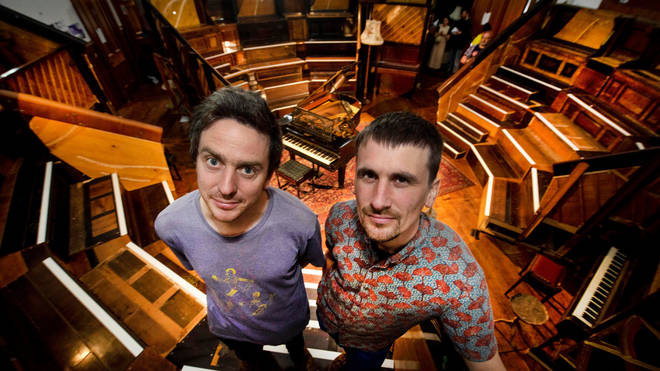 Have you ever wondered what happens to pianos after they get thrown out? Well, some return to the concert hall – but not necessarily as instruments...
Over the last few decades, more and more acoustic pianos have been ending up in landfill sites after being thrown away by their owners.
Cast away either due to broken pieces, general wear and tear, or a lack of good tuning, these instruments are abandoned and left to rot.
But what if that didn't have to be the case? Could old pianos be given a new purpose once their performance days were over? Well that's exactly what Tim Vincent-Smith, co-founder of Pianodrome, decided when he learned just how many keyboards were making it to the dump.
"I was moving into a new flat," Tim told Classic FM, "when I asked the piano mover, who was lifting a baby grand up three flights of stairs, if he ever had any spare pianos."
Tim, a musician and an artist, was making sculpture and furniture out of found materials at the time, and was excited to learn that the piano mover did in fact have some spare instruments.
Read more: An old piano was being dumped, so this guy gave it one last play… using a backhoe digger.
"[The piano mover] had three pianos in his van that were on the way to the dump which he dropped at my studio free of charge the following day and he kept dropping pianos off thereafter until I had to tell him to stop.
"Initially I was elated to get three free pianos, then I thought 'oh dear'," explained Tim. "As a musician it's never comfortable to see an instrument getting dumped, particularly such a beautiful looking and sounding instrument so full of stories and potential.
"As an artist working with found materials there was also an element of seeing the potential to reuse all the amazing structural and decorative wood pieces, the elaborately decorated cast iron frames and all the intricate and extraordinary mechanisms and parts inside for interactive sculpture."
This is where the idea for Pianodrome CIC came from – as Tim describes it, the company is a culmination of a lifetime of building from found materials, building creative communities and playing music.
Read more: Pianos in the dumpster? Instrument technician left 'speechless' as university dumps $10k grand
Along with his bandmate Matthew Wright, co-founder of Pianodrome, the pair bought a shipping container on a brownfield site in Edinburgh 'The Forge' and filled it with pianos, starting to prototype seating structures.
The Pianodrome had the desire to build the world's first amphitheatre made entirely from upcycled pianos.
The first 100-seater venue Tim and Matthew created out of pianos was the Pianodrome at the Royal Botanic Garden in August 2018 for the Edinburgh Fringe Festival. The ambitious amphitheatre had 18,000 visitors and received international acclaim for its inventive build.
As written on the bottom of their website, it is vital to iterate that 'no working instruments were harmed in the making of the Pianodrome', rather the pianos chosen to create the striking seating were beyond repair.
Read more: Engineer fills his piano with water and climbs inside it like a swimming pool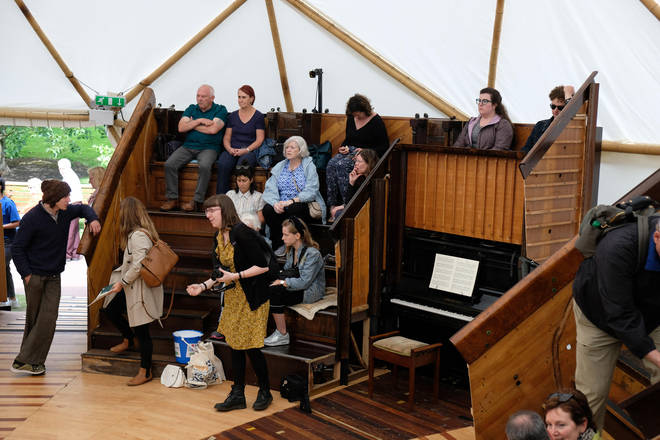 Since their first Edinburgh Fringe appearance, the Pianodrome has returned in different builds at various locations across the festival and across the city in general, enjoying performance residencies at venues including the Leith Theatre in 2019, and at the Old Royal High building last summer.
Returning to their architectural explorations, Pianodrome also collaborated with Leeds International Piano Competition 2021, designing and building ten sculptures as part of the competition's Piano Trail.
"The trail really allowed us to really explore a range of ideas relating to the piano and environment," Tim told Classic FM.
As well as turning unplayable pianos into beautiful sculptures and concert arenas, Tim and Matthew have also learned to tune and fix up old pianos.
Since the early days of Pianodrome, the team have received multiple donated pianos from all walks of life, and some of these instruments come to Tim and Matthew with a lot of life left in them.
"Many of the pianos which are kindly donated to the project are in perfectly good working order and are often very beautiful objects in their own right," Tim explained. "People will understand that we are reluctant to turn them into sculpture.
"At the Wee Hub (Pianodrome's new home) we have set up a small piano workshop where we are learning to tune and fix old pianos and a showroom where people can come and try out our selection and maybe choose a piano to adopt for their home or community space."
You can find out more about adopting a piano from Pianodrome here.