Taylor Swift's waterlogged piano starts playing its own ominous solo, after rain damage
23 May 2023, 14:06 | Updated: 23 May 2023, 14:08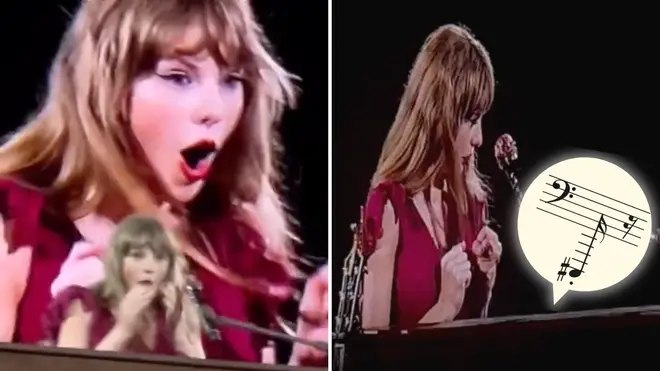 A malfunctioning, water-damaged piano created its own solo to accompany the pop diva, during a Sunday night show in Massachusetts.
A potential pianistic poltergeist seems to have made a surprise appearance, during a live show from one of pop's biggest stars.
Credible electrical explanations to one side, it has not stopped the moment creating a social media storm over the last 24 hours.
American singer-songwriter Taylor Swift was performing a sold-out stadium double-header of shows in Foxborough, Massachusetts. The Saturday concert was enveloped by hours of heavy rain.
Though it was not enough to deter Taylor nor the fever of her fans, her piano clearly disapproved.
When she sat at the instrument during the following night's show, the flower-adorned instrument began to malfunction, playing a droning pedal of very low C sharps.
"Do you hear that?! Is that happening for you, too?" she asked her audience.
Read more: A deep musical analysis of Taylor Swift's singing voice
"So it rained a lot last night, like a monsoon. Literally it was like a waterpark under the stage," the singer added, as the piano resolutely sounded a series of low notes of its own accord.
It all called for some swiftly employed instrumental adaptation. "So this has clearly broken my piano," Taylor said.
"I'm just gonna get the guitar. It's gonna be fine," she reassured her audience.
Guitars were unaffected by hauntings, and the concert proceeded piano-less.
After the instrument's impromptu iterations were shared online, social media became awash with reactions and supernatural theories in response.
Oh my god! There's a ghost in the machine! I think the piano is Haunted!

— steven ❀ // doja's favorite :) (@arianaunext) May 22, 2023
Others praised the singer's calm response and adaptation. "[It's] incredible to see how Taylor Swift can handle unexpected moments during her concerts with such grace and professionalism," said another tweeter.
It is in fact the second time in recent weeks, that phantom pianos have confounded corners of the Internet.
Earlier this month, during the 2023 Eurovision finals, many were rattled by a self-playing instrument in Estonia's entry.
And to complete a trio of fearsome fortepiano fables, in 2021 a Craigslist advert went viral, with a user selling a piano that was explicitly "not haunted", but the world seemed to disagree.
All scary stuff. Next time you pass an 88-keyed apparatus, make sure you keep your wits about you.