Watch this friendly elephant experience a Beethoven piano sonata
3 June 2020, 13:44 | Updated: 10 June 2020, 13:35
In uncertain times, let Mother Nature and the world's greatest music be of some comfort.
An elephant in western Thailand has experienced one of Beethoven's best-loved masterpieces.
In the video (watch above), we see pianist and portrait artist, Paul Barton, play the friendly creature the second movement of Beethoven's 'Pathétique' Sonata.
In the caption to Barton's clip, he says: "Chaichana often moves to the rhythm in this particular piece — only, as it becomes progressively rhythmical, almost as if he was dancing."
Read more: Yo-Yo Ma plays surprise solo during 'James and the Giant Peach' reading, gives everyone feels >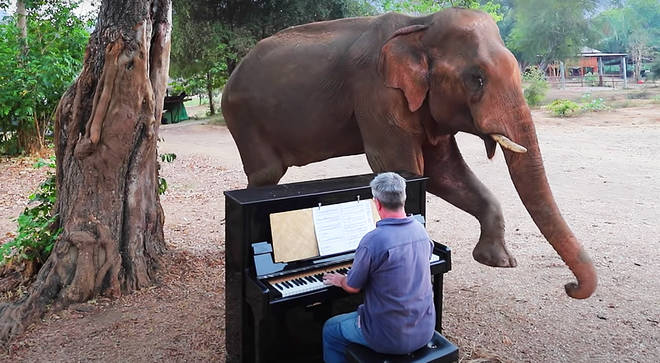 He continues: "[It was] the end of the day. We moved the piano away from the river to the dirt road to be collected with our pickup truck to take home. Chaichana wandered up to the piano, so I thought I'd play him the Beethoven one more time before we set off home."
This isn't the first time Barton has shared his love of classical music with his mammoth friends – Chaichana's companion, Mongkol, has heard the occasional spot of Schumann: