A Tchaikovsky piano concerto WITHOUT a piano, and Bach WITH pizza
26 January 2017, 16:41 | Updated: 8 May 2017, 14:12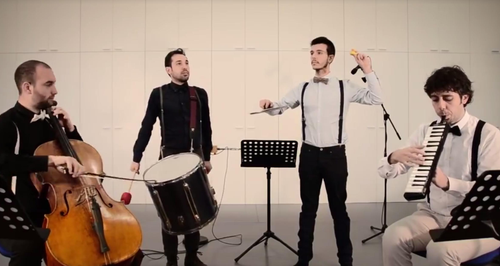 The clever folk of Decostruttori Postmodernisti with some exceptionally poised, every so slightly idiosyncratic classical interpretations.
Decostruttori Postmodernisti, who seem to specialise in being extremely musical and odd on a shoestring budget, put together most excellent performances of classical masterpieces.
Just try their Tchaikovsky concerto... What's the one thing you definitely, absolutely have to have when you're performing Tchaikovsky's Piano Concerto No. 1? Aside from guts, you're definitely going to need a piano. [freeze-frame] OR ARE YOU?
And here's some Bach (with Pizza)
Visit these guys on Facebook, and here's their YouTube as well. They're great.