This is an octobass – it's so low it will turn your insides to jelly
21 October 2016, 15:05 | Updated: 10 November 2022, 13:53
The lowest string instrument in the world plays some very low, very mellow Mozart, thanks to the Montreal Symphony Orchestra.
The Montreal Symphony Orchestra has just become the only ensemble in the world to employ an octobass in its ensemble.
Here it is dwarfing its new orchestra mates in Montreal: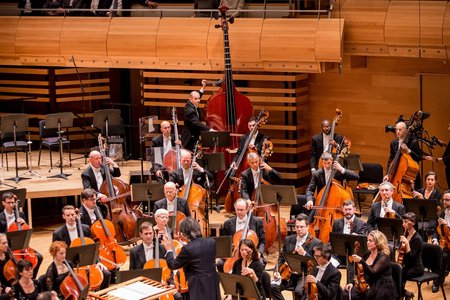 The 3.6m-high instrument is essentially a monstrous double bass. After the video, there are a few interesting facts, but you want to hear it first. Enjoy the pleasant bass growl of some very low Mozart, performed by members of the Montreal Symphony:
Octobass plays Mozart's Ave Verum Corpus
How low does the octobass go?
The octobass owned by the Montreal Symphony Orchestra is apparently the lowest working one, with a range reportedly extending more than an octave below that of the double bass. For the technically minded it is tuned to A0, compared to the C1 that a double bass can stretch to.
How do you play an octobass?
Like this: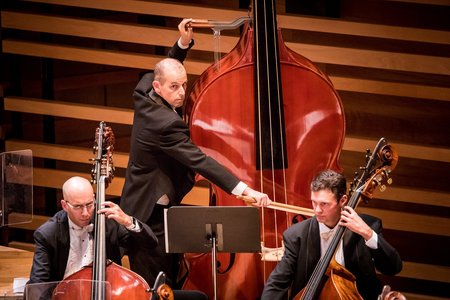 As you can see, no normal person can reach the neck of an octobass to push down the strings and produce different notes. So it has a system of levers operated by the octobassist's hands and feet. These are attached to frets on the neck, which push the strings down to create notes.
How can I get an octobass?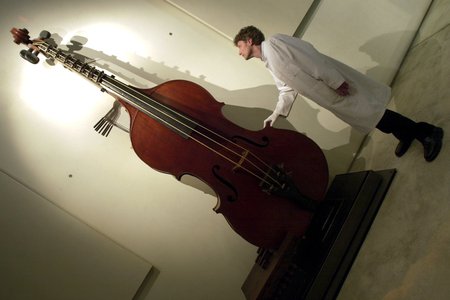 You can't really. There are only a handful of octobasses in the world: the original (above) is on display in the Musée de la Musique in Paris, while there are octobasses at the Kunsthistorisches Museum in Vienna and the Musical Instrument Museum in Arizona. The Montreal Symphony's instrument is a replica of the Paris octobass.