Let Lizzo's calming flute meditation bring you comfort amid coronavirus uncertainty
16 March 2020, 13:15 | Updated: 18 March 2020, 15:19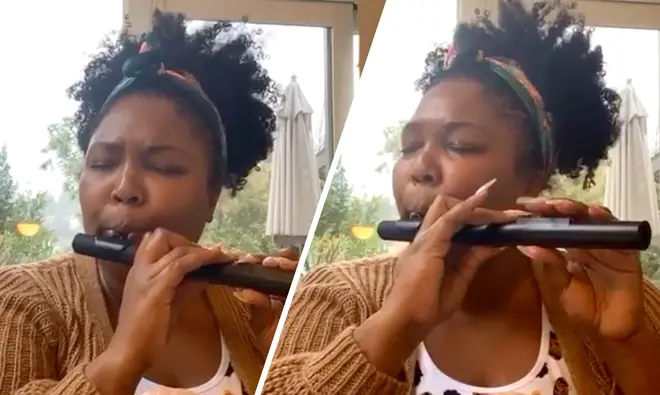 In times of fear and anxiety, our favourite hip-hop flautist Lizzo proves sometimes, music is the perfect therapy.
Amid anxieties surrounding the coronavirus outbreak, hip-hop artist Lizzo is bringing peace and comfort to the world with some gorgeous flute meditation.
In the Instagram Live video (watch below), Lizzo – who is also a classically trained flautist – plays calming melodies on her miniature woodwind instrument (a 'nuvo toot') to help keep us all calm, in uncertain times for everyone across the globe.
Click here for the latest coronavirus advice from the NHS >
"Music is vibrations. Everything is a vibration," Lizzo says. "If you studied music, like when you're playing, you have to get the waves in tune with each other in a band.
"So, if the clarinet is playing and their waves are like this," she says, moving her hand in a waving motion, "And the flutes are playing and their waves are a little slower," she continues as she makes a slower wave motion with her second hand, "Then you have to get your waves together or else you'll be out of tune."
Lizzo ends her video by saying: "So, let's get in tune with each other. The earth is vibrating high, the earth is in tune. The earth is playing beautifully.
"Let's replace that fear right now with love."
Like many other artists, Lizzo had to cancel an upcoming performance at the Houston Rodeo because of COVID-19 concerns.
Read more: All the major classical music events cancelled due to coronavirus so far >
The viral video has already had more than 2 million views, with thousands of comments from viewers thanking her for the guided meditation. In these uncertain times, we can always find beauty in music...