This Icelandic music festival is doing amazing things for young composers
16 February 2018, 12:37 | Updated: 17 October 2018, 13:24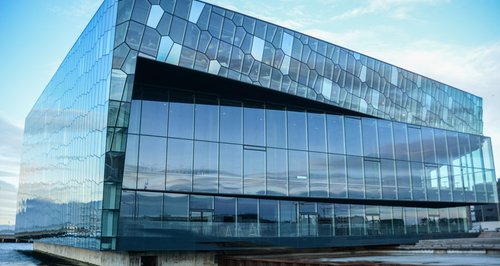 Dark Music Days tests the boundaries of contemporary music in Iceland's stunning capital city, Reykjavík – and it's giving young classical composers a unique opportunity to showcase their work. We went along to this year's festival to find out how it went.
Dark Music Days takes place during the darkest period of the Icelandic winter at Harpa Concert Hall, in downtown Reykjavík. It's very cold and dark but also super pretty and Nordic.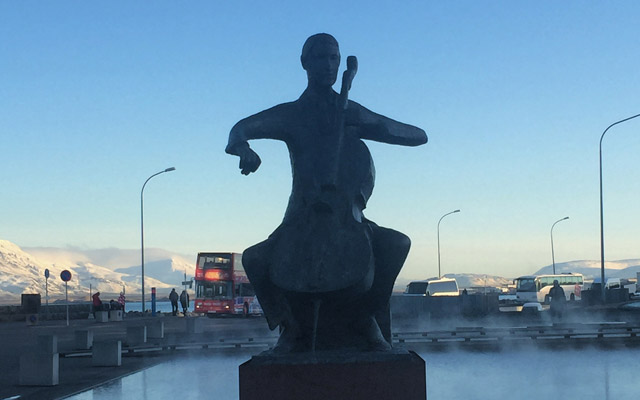 Chilly cellist, who seemed to have lost his bow...
Time for the first performance
First up was The Elblag Chamber Orchestra, a string ensemble from Poland.
They began with 20th-century composer Grażyna Bacewicz's Concerto for String Orchestra, before playing a Divertimento for string orchestra, written by Polish composer Mikołaj Górecki in 2009. It sounded like this:
Next up, the Iceland Symphony Orchestra
Who better to represent Iceland's best contemporary music festival than the country's very own symphony orchestra? They played five new commissions, including this new work by Gísli Magnússon, composed in a workshop for young composers. Have a listen:
Then, it was time for Riot Ensemble
There's a lot of buzz around this ensemble – and they didn't disappoint. From a percussionist playing a cymbal and a xylophone with a violin bow (it sounded pretty creepy), to an oboist inhaling rather than exhaling into his instrument, Riot Ensemble showed just how versatile their instruments could be.
Here's 'Like a Memory of Birds', a work commissioned last year from young composer Aaron Holloway-Nahum:
The festival's artistic director said: "I see Dark Music Days as a venue for young composers to have their works performed, and as a support for the younger generation," said Gunnar Másson, who studied composition at the Iceland Art Academy and The Royal Conservatory of Music in Copenhagen.
"It's just as important to perform music from the 20th century, as it is to play newly written music by young composers. This is almost the only contemporary festival in Iceland, so it's super important to show that this is a gateway into the [classical composition] scene.
"The youngest composer this year is only 26!"
So, how do composers apply to Dark Music Days?
"There is a call for proposals, and there are international auditions for composers," said Gunnar.
"It's not always black and white, what kind of application is good. I've said yes to an application which was only one page and a couple of pictures. Then said no to an application which was almost a dissertation.
"It often comes down to what kind of performers they are, what kind of festival it is and who's in charge of the programme."
Any advice for young composers?
"Get to know a lot of people, play in an ensemble – which is a more stable part of the festival – and send out as many cold calls and applications as you can. I'm still doing that!"
Dark Music Days was founded in 1980 as a platform for Icelandic composers to present their work, but today it presents a repertoire of pioneering contemporary music from all around the world. Find out more here.