How do you memorise music?
14 March 2017, 21:30 | Updated: 22 March 2017, 13:18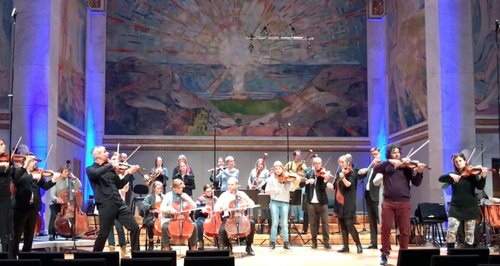 The Norwegian Chamber Orchestra first played a piece of music from memory in 2010. It was Grieg's five-part Holberg Suite. And while it was normal to see soloists performing from memory, it was something else to see a whole orchestra without music. We asked the orchestra's leader, Terje Tønnensen, for his tips.
"Most performances on stage are done with the energy all going towards an audience," explains Terje. "But if you see a classical orchestra play with music, most of the musicians are turned to the music and the conductor usually has his back to the orchestra, which creates – in my view – a large fourth wall between the musicians the audience."
"If you play from memory, you can turn to the audience and actually play to the people you're playing for."
Here's Terje in action with the Norwegian Chamber Orchestra
So, would you like to play like that? Here are Terje's five tips for memorising music.
1 Start with a small section
"Start with a small section of the piece – as small as ten bars. Then I learn these ten bars by heart, I go to the next section and I continue like this until I get to the end of the piece. And of course I've forgotten the beginning by the time I've got to the end, so I go back to the beginning and repeat."
2 Practise longer and longer sections
"For a piece like Verklarte Nacht, which is made up of four or five bigger sections, I practise them separately, and then eventually, you'll be able to play the whole piece
3 Imagine the structure of the piece as a building
"One technique is to have the building or the structure of the piece as a picture or some other type of intellectual memory. This is necessary if you're memorising a larger piece. But most memory, for me at least, is physical – the way I move my hand, the way figures connect with each other."
"This was how I learned almost everything when I was a kid, but it's not so easy now, so now there's a great deal of intellect in the process."
4 Sometimes a change of mood can be useful
"If the piece is a tragic piece, if there's a major part which has a certain light to it, that can help with memorising"
5 You've learned the music – now what?
"The first time you play without music, you get extra energy that you don't know what to do with. So we had courses with an American pantomime and learned a lot of basic theatre techniques about how to project the music and energy beyond the stage."
The Norwegian Chamber Orchestra is on tour and will be performing in London on 17th March in Cadogan Hall