Does Himesh Patel really sing and play guitar in Yesterday the movie?
1 July 2019, 09:09 | Updated: 1 July 2019, 09:11
Himesh Patel's role in the new movie 'Yesterday' requires him to sing and play much of The Beatles' enduring back catalogue. So, we listened to the actor's performance and judged its authenticity…
Yesterday, a new film starring British Asian actor Himesh Patel, asks the unanswerable question: what if The Beatles never existed?
Patel plays the fictional character Jack Malik, a struggling musician who wakes up after a blackout and finds himself in a world in which The Beatles don't exist. Nobody remembers their songs except Malik, putting him in, well... a weirdly powerful position.
Written by Richard Curtis (Love Actually, Bridget Jones's Diary) and directed by Danny Boyle (Trainspotting, Slumdog Millionaire) the film also stars Lily James (Mamma Mia 2, Baby Driver), Ed Sheeran and Kate McKinnon.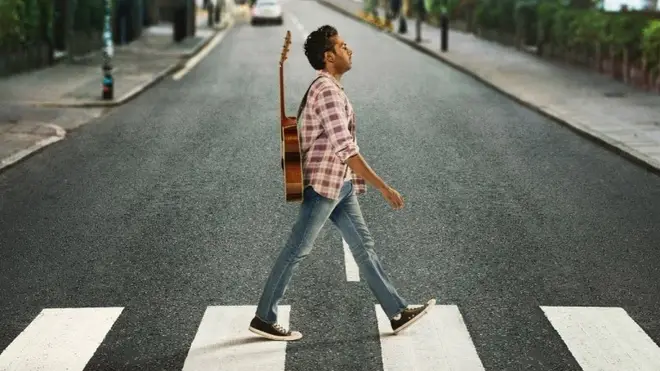 Can Himesh Patel really sing?
Patel's vocal performance in the film seems completely untampered with. The actor's voice is soft and unembellished, making it perfect for the songs of Lennon and McCartney.
When he auditioned, Patel had no idea what he was signing up for. "I just got an email from my agent saying there was an audition for this film," he says.
Instead of reading lines, Patel was asked to perform a Coldplay song of his choice on acoustic guitar. He chose the simple ballad 'We Never Change', impressing the panel of film directors and producers with his understated performance.
Danny Boyle told Billboard: "A lot of actors are amazing. They try to bull**** their way through it. 'Ride a horse? No problem, I can ride a horse!'
"[Himesh] has this ability to make you feel them anew," the director said of Patel's Beatles covers. "They're familiar, but strange at the same time."
Does he really play the guitar and piano in the film?
Before he got the part, Patel says his exposure to The Beatles had been limited, and he could only "vaguely" play the guitar, having taught himself when he was just 13 years old.
Until then, Patel, who grew up in Cambridgeshire, was learning the piano. "I wanted to learn the guitar," Patel told India Abroad. "So I bought myself a cheap electric guitar and started learning to play it."
Speaking to Vogue, Patel recalls: "My mum's favourite song ever is 'Imagine' because it came out around when she arrived in England." His mother, born in Zambia, and his father, born in Kenya, both came to England via India in the post-colonial era.
"But I got the part, and within two days I was in a room learning the songs."
Patel, who is best known for playing Tamwar in EastEnders, plays the guitar with a charming sensitivity in the film.
Have a listen to the clip above, in which he strums out a delicate rendition of 'Yesterday' at CinemaCon 2019 – it's just lovely. We predict great things...
Danny Boyle's YESTERDAY just keeps looking better and better. Live worldwide singing debut with star Himesh Patel. "Definitely didn't think I'd be playing Caesar's Palace when I got this gig." He can certainly carry a Beatles tune. Might be that surprise breakout this summer. pic.twitter.com/0ebprzSG1H

— Exhibitor Relations Co. (@ERCboxoffice) April 3, 2019
Despite the Boyle/Curtis pedigree, I'm skeptical of "Yesterday" the movie, but Himesh Patel singing "Yesterday" at CinemaCon was lovely

— Ryan Pearson (@ryanwrd) April 3, 2019
Yesterday is out in UK cinemas on Friday 28 June.