Someone is colourising classic photos of great composers and the result is stunning
27 November 2017, 12:16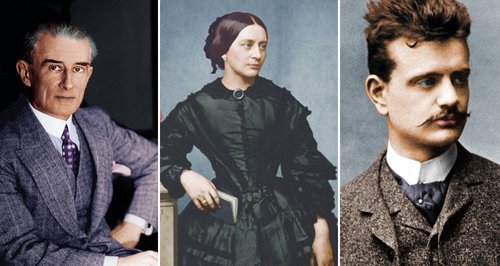 There are no colour photos of Prokofiev or Ravel, but one reddit user has decided that needs to change.
Redditor Creedelback has been posting colouried images of the great composers for the last few days on Reddit.
First up, the great Russian composer Sergei Prokofiev, who died in 1953
Took a stab at colorizing a picture of Prokofiev walking around my town (Chicago) some time in 1919. from classicalmusic
Next he turned his attention to Ravel, the French composer most famous for his Boléro
Today's colorized composer: Maurice Ravel from classicalmusic
Clara Schumann was one of the greatest concert pianists of her time and also married to fellow composer Robert Schumann.
Here she is pictured **in colour**
Today's colorized composer is Clara Schumann (I can see why Brahms was so obsessed with her... rowr) from classicalmusic
Most recently in the series, Creedelback has shared his colourised take on the great Finnish composer, Jean Sibelius
Today's colorized composer is one for the ladies: A young, hipster-y Jean Sibelius before he went full Uncle Fester. from classicalmusic
Even more recently, artist Marina Amaral colourised the Hungarian composer, virtuoso pianist, conductor, music teacher and organist, Franz Liszt
Franz Liszt was a prolific 19th-century Hungarian composer, virtuoso pianist, conductor, music teacher, arranger, organist, philanthropist, author, nationalist and a Franciscan tertiary. As a composer, Liszt was one of the most prominent representatives of the New German School. pic.twitter.com/OIk1ul0jbW

— Marina Amaral (@marinamaral2) November 27, 2017
Head to the classical music reddit to find out more.