This composer writes out music as it's performed, and it's beautifully captivating
28 February 2017, 16:07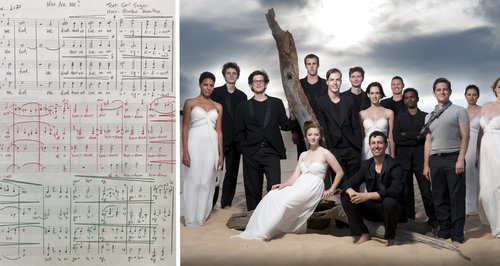 This is a clever trick from The Australian Voices: writing out the music as it's being sung.
It's not too tricky to name classical music from or inspired by the likes of Germany, Italy, France or Russia. But what if we asked to you think of classical music from Australia? It's a little harder...
However, there is actually a wealth of talent from our friends down under. Leading the way in performing this music is The Australian Voices, who have been commissioning, performing and recording the music of Australian composers since 1993.
To celebrate the release of their latest album, Reverie, they have released a beautifully captivating video of 'Who Are We', a piece which marvels at the enormity of the universe, where composer and artistic director of The Australian Voices Gordon Hamilton writes out the score while they sing:
The text for 'Who Are We' is by the great scientist, communicator and atheist, Carl Sagan:
'We find that we live on an insignificant planet of a humdrum star
lost in a galaxy in some forgotten corner
of a universe containing far more galaxies than people.'
You can purchase Reverie here, download the score here and follow The Australian Voices on Facebook here.