6 amazing women in classical music history you should know about
6 September 2018, 13:15 | Updated: 16 September 2018, 14:51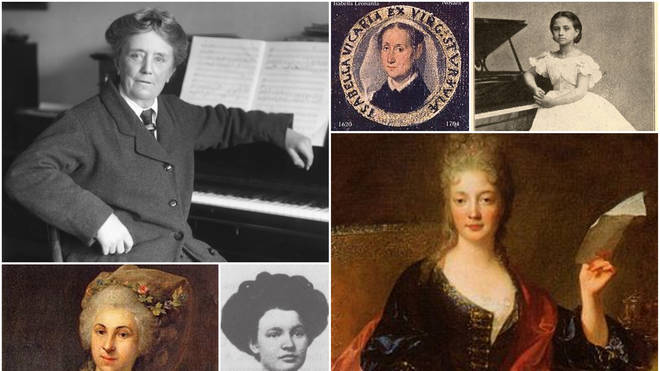 Promoted by ITV
Inspired by the new ITV drama 'Vanity Fair', we're shining a light on one of the most brilliant women in music history. Becky Sharp in Thackeray's masterpiece was ambitious, driven, and wanted to make her tomorrow better - just all these composers, all pioneering and inspiring in their stories and music.
Ethel Smyth
One of this country's greatest composers was an English composer from Sidcup, Kent in 1858. Her father was opposed to her pursuing a career in music, but Smyth was determined to make it as a composer and her studies led her all the way to the prestigious Leipzig Conservatory. Her compositions include works for voice, piano, chamber groups and orchestra. In 1910 she joined the women's suffrage movement and her composition The March of the Women became the anthem of movement. Smyth was awarded Damehood in 1922 - the first female composer ever to receive such an honour.
Teresa Carreño
Teresa Carreño was a pianist, singer, composer and conductor born in Caracas, Venezuela in 1853. Her father was from a very musical family and gave her music lessons from an early age and was quite the prodigy. Over her life she became a world renowned pianist and composed around 75 pieces for voice, piano, choir, orchestra and instrumental ensemble. She also sang roles in operas like Don Giovanni, Les Huguenots and many more. What a star.
Marianna Martines
Let's go back to Vienna in 1744 where an exceptional pianist, singer and composer was born. Marianna Martines took keyboard lessons from none other than Joseph Haydn (you'd want to do you practise with a teacher like that). She soon began to show a talent for composition and took lessons with Imperial Court composer Giuseppe Bonno. As her music became more well known she joined the Accademia Filarmonica of Bologna in 1773 and really indulged in the Italian style (it was very fashionable at the time). Her compositions included two oratorios in Italian as well as a number of cantatas, motets and masses - and here's one of her sonatas:
Isabella Leonarda
Isabella Leonarda was a composer from Novara, Italy. She entered the Collegio di Sant'Orsola, an Ursuline convent, at the age of 16 and remained there for the rest of her life. Her compositions spanned almost every genre of sacred music, including psalms, responsories and Magnificats. She was also the first woman to publish sonatas, writing many in her lifetime. Listen to her 'Sonata duodecima' for violin solo and continuo - it's just stunning.
Elisabeth Jacquet de la Guerre
Elisabeth Jacquet de la Guerre was a French harpsichordist and composer, born in Paris in 1665, into a wonderful (and possibly quite noisy) family of musicians and instrument-makers. She received her music education as a child from her father, performing to King Louis XIV at a young age. As a teenager her education was overseen by the king's mistress in the French court. After her marriage in 1684 she taught, performed around Paris and composed opera and ballet. Her opera Céphale et Procris was the first opera to be published by a woman in France.
Augusta Browne
This American composer and author was born in Dublin, Ireland in 1820 and crossed the Atlantic with family when she was a child. She gained fame in the mid-1800s as part of the first wave of female composers in the US. She liked to compose music that would be enjoyed by the masses, writing over 200 works for piano and voice in addition to numerous hymns and secular pieces. She was also a rather outspoken writer and music critic.
Want to know more stories about incredible women of the 19th century? Watch ITV's new drama Vanity Fair Sunday nights at 9pm or catch up on what you missed on the ITV hub. And here's your change to win a luxury four-night break in Brussels, where the drama is filmed.