David Mellor's Album Review: Capuçon's 'fresh-as-paint' violin concertos and The Sixteen's 'excellent' The Deer's Cry
24 January 2016, 12:34 | Updated: 6 January 2017, 14:45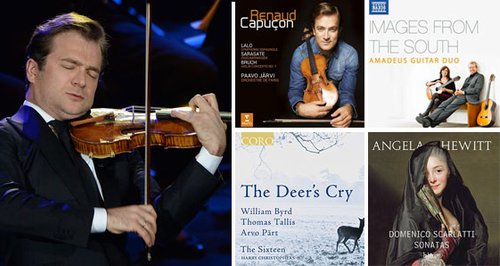 Every week our albums guru David Mellor reviews the best of the new releases and reissues, and features two of them in his Sunday show at 7pm.
CRITIC'S CHOICE
Violin Concertos by Max Bruch and others
Renaud Capuçon/ Warner Classics
The French violinist Renaud Capuçon, who celebrates his 40th birthday on Wednesday, already has a formidable discography that attests not only to his virtuosity and warm, ingratiating tone, but also to his wide range of musical sympathies both in concertos, and chamber music.
This celebratory album winningly combines the familiar and the unfamiliar, and offers a snapshot of classical music between 1868 and 1878, when these three pieces were premiered.
Obviously the Bruch Concerto is incredibly well known, but it comes up fresh as paint here, with a particularly effective, fleet footed finale.
Edouard Lalo's Symphonie Espagnole is shamefully neglected. Its five movements are beautifully laid out for violin and orchestra, and each one contains a memorable melody. It was premiered in 1874 by the Spanish virtuoso Pablo de Sarasate, so it was a charming idea to complete this exceptional album with Sarasate's Zigeunerweisen, a memorable ramble through Hungarian gypsy themes.
Capuçon plays well throughout, and the Orchestre de Paris accompany attentively under Paavo Jarvi.
In today's programme from 7pm, I will be playing the first and third movements of the Bruch, and Zigeunerweisen - a feast for violin lovers.
BEST OF THE REST
I Heard You Singing
Ben Johnson / Opus Arte
Ben Johnson won the Audience Prize at the 2013 Cardiff Singer of the World Competition. He is a splendid young tenor of great musicality, and a genuinely Italianate timbre.
But here he turns his attention to British ballads, primarily from Victorian and Edwardian times. These neglected songs are full of charm and melodic distinction, and beautifully performed on this Opus Arte album, as you will hear if you tune into my show at 7pm tonight. I will be playing four of them. The title song "I heard You Singing" is a touching piece with a great tune, from that master of light music, Eric Coates. Elgar's Pleading shows what a formidable songwriter he could have been if he had chosen better poetry to set.
My especial favourite is Amy Woodforde-Finden's Kashmiri Song, also possessed of a lovely melody. Sullivan's The Lost Chord is a treasurable piece of Victorian mawkishness, that still makes an emotional impact when as persuasively performed as here.
The Deer's Cry
The Sixteen / Coro
The Sixteen, the voices of Classic FM, have never made a bad record, and this is an excellent one.
Cleverly, this album brings together the music of the 16th-century polyphonist William Byrd, one of the greatest European masters of his age, and three choral pieces by the Estonian composer Arvo Pärt, who celebrated his 80th birthday last year.
In his notes The Sixteen's founder and conductor Harry Christophers said Byrd and Pärt "make for a perfect match", and so they do, without Pärt's music, written 400 years later, sounding reactionary or old hat.
The album is named after one of Pärt's pieces, The Deer's Cry (2007), words by St Patrick, which has great dignity.
I will be playing that, and one of the Byrd pieces, on my Sunday show in a fortnight's time.
Domenico Scarlatti Sonatas
Angela Hewitt / Hyperion
Angela Hewitt has made some outstanding Bach recitals on the grand piano for Hyperion, but in recent times has mainly moved on to the late 18th and 19th century masters like Mozart and Liszt.
I had few reservations about her Bach playing, but haven't liked everything else, including last year's Liszt album, which I though almost unbearably slow. Others, however, disagreed.
But with this Domenico Scarlatti CD she's back in the world of the baroque, which is where I think she's most persuasive. It's a typically generous Hyperion offering, lasting 76 minutes, and featuring 16 sonatas out of the 555 (yes, really!) Scarlatti wrote.
BEST BARGAIN
Images from the South
Amadeus Guitar Duo / Naxos
Dale Kavanagh and Thomas Kirchhoff, both teachers at the Detmold Academy of Music, have been playing together as the Amadeus Guitar Duo for 25 years.
This album of mainly Spanish music was recorded in 2007, but only one of the 21 tracks here has appeared previously. That curious history shouldn't put any guitar fan off, because this is an extremely well executed, and thoroughly entertaining and unhackneyed hour-long recital, where established masters like Rodrigo and Tárrega rub shoulders with contemporary composers like Alfonso Montes (B 1955).
Montes's five movement Surama is a collection of dance tunes, dedicated to this duo, including a Cha Cha, and with an especially engaging tune in the fourth Canto movement. Thoroughly recommended.