Album reviews and new releases: Alice in Wonderland, cinematic piano, and stylish Mozart concertos
9 September 2016, 09:05 | Updated: 6 January 2017, 14:45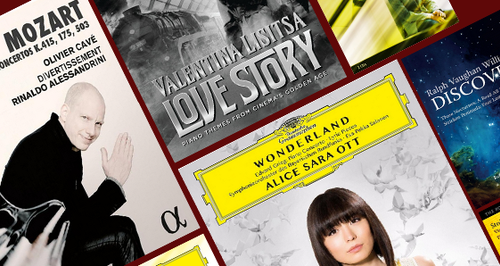 Throughout the week Classic FM's presenters bring you the best new recordings, including world exclusives and premiere broadcasts of latest releases.

Every weekday morning after 10am, John plays a track from Classic FM's Album of the Week.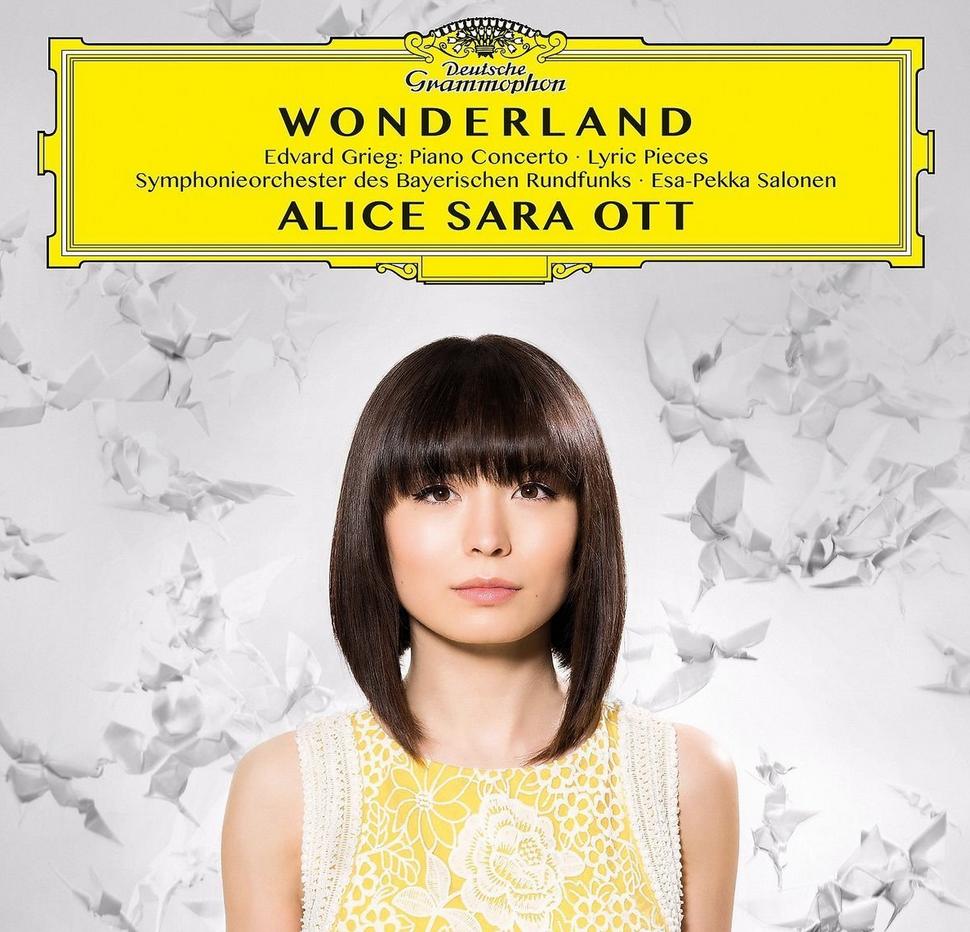 Wonderland - Grieg: Piano Concerto in A minor/Lyric Pieces/Peer Gynt suite
Alice Sara Ott/Symphonieorchester des Bayerischen Rundfunks/Esa-Pekka Salonen
Deutsche Grammophon DG 4794631
On her new album, the brilliant young pianist Alice Sara Ott takes us on a journey into the world of Edvard Grieg, complete with mountain trolls and elves, hills and fjords. Ott says she has always been fascinated by the fantasy world Grieg created and its fairy tale-like characters. "Without our really noticing it," she says, "we are taken on a journey into a daydream, a 'wonderland' from which we return only reluctantly to our own everyday reality." And she achieves just that. The Lyric Pieces, are interspersed with piano arrangements of selected pieces from the Peer Gynt Suites, but the piece de resistance is Grieg's piano concerto in A minor, for which she is supported brilliantly by the Symphonieorchester des Bayerischen Rundfunks, under the acclaimed conductor Esa-Pekka Salonen.

Download from iTunes >
Order from Amazon >

After 6pm each weekday evening on Classic FM Drive, John showcases a Drive Discovery track from a fantastic new release.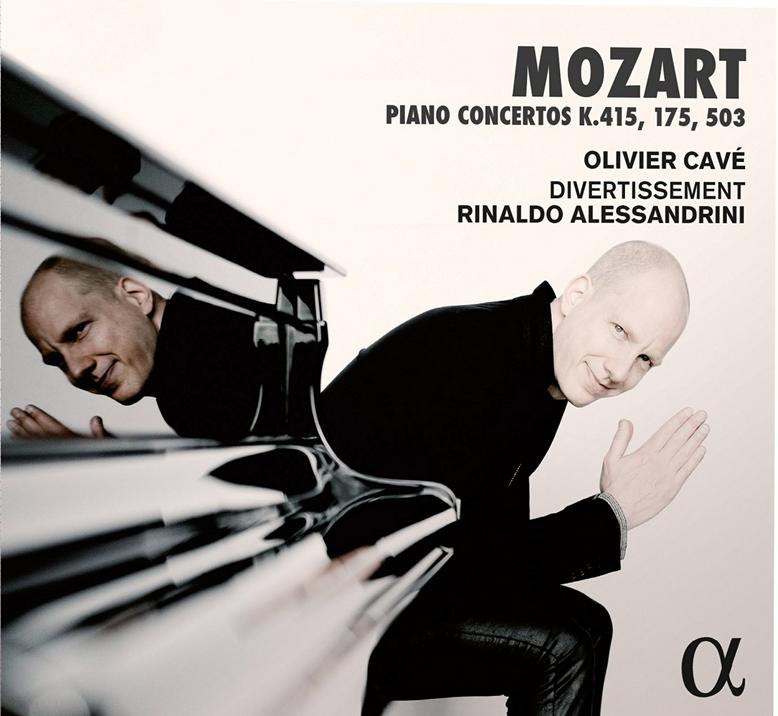 Mozart: Piano Concertos Nos. 5, 13 & 25
Olivier Cavé/Divertissement/Rinaldo Alessandrini
Alpha 243
Olivier Cavé is one of today's most refined pianists. This album of three Mozart piano concertos celebrates his special relationship with conductor Rinaldo Alessandrini whom he met at a concert in Toulouse. The orchestra Divertissement has been especially formed for the recording, and plans are afoot for them to embark on a European tour focusing on these concertos and symphonies by Mozart. Mozart's path from 17-year old youth to maturity is traced through the three concertos. These are stylish and nimble performances with a light Italian twist.
Download from iTunes >
Buy from Amazon >

CRITIC'S CHOICE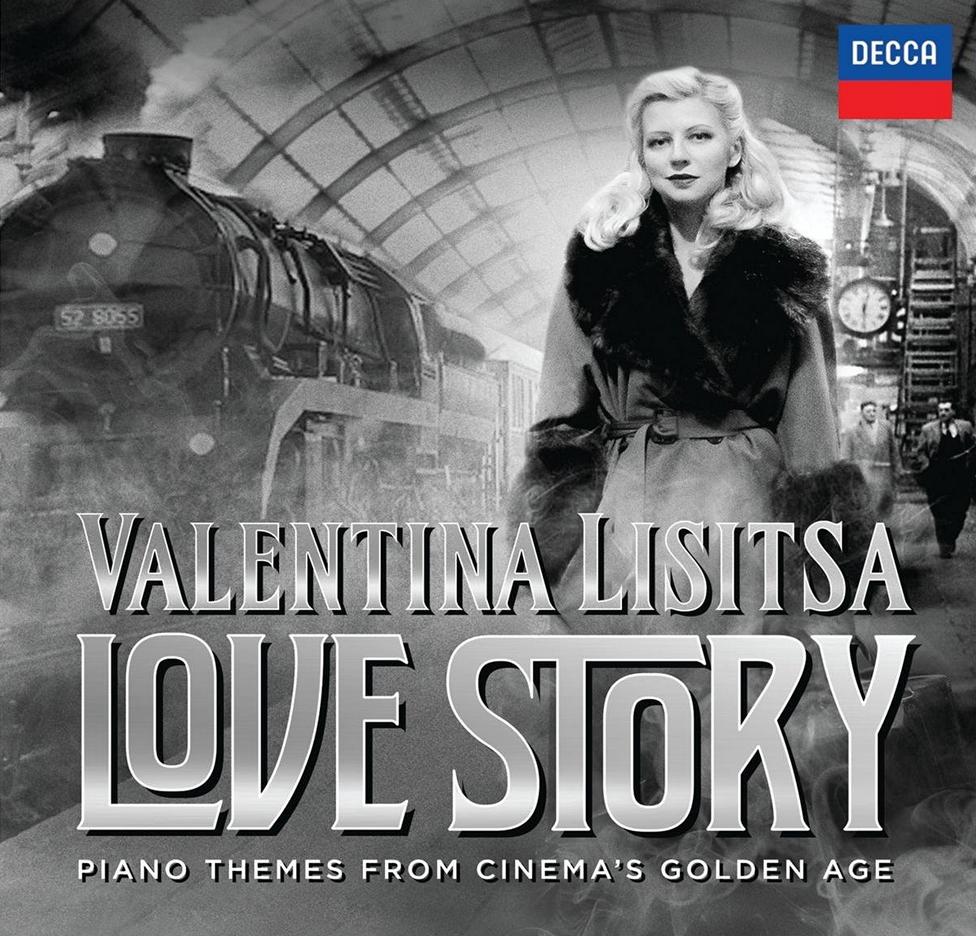 Love Story: Piano Themes from Cinema's Golden Age
Valentina Lisitsa/BBC Concert Orchestra/Christopher Warren-Green/Gavin Sutherland
Decca 4789454

I admire the Ukrainian pianist Valentina Lisitsa, because our Val is a competitor. Troubled a decade ago she wasn't making that elusive breakthrough, she uploaded a lot of stuff onto the internet, with her playing a rickety old school piano, and awaited developments. 115 million hits later, she can perhaps consider that initiative a success. It brought a Decca contract, under which she has made a number of albums that I have praised here and elsewhere, including off-the-wall stuff from the likes of Michael Nyman and Scriabin, as well as a complete Rachmaninov concerto set she funded herself. And now she clicks the silver screen nostalgia button, with an album of Golden Age movie, cod-Rachmaninov, miniature piano concertos, where she oozes charisma, and will sweep you away. Because Our Val is an old-school steely fingered virtuoso – whoever said women were the weaker sex never heard our Val play. Richard Addinsell's Warsaw Concerto and the other two so-called 'Denham concertos' (after the studios where the films were made), Cornish Rhapsody, and Charles Williams's The Dream of Olwen, glitter and glisten, making this one of the most captivating releases of the year for anyone who loves a good tune. Happily Val isn't a one club pianist. She can mix it up, with moments of genuine repose, amidst all the razzle-dazzle. Here she is greatly helped by her two conductors – especially Christopher Warren-Green in the 'Denham concertos'. Val is also to be congratulated on digging out some enticing rarities to complete this generous 70-minute issue. They have found another Addinsell piece, called Invocation, which is pretty good, and another Williams rhapsody, which featured in that memorable Jack Lemmon movie The Apartment, and is absolutely brilliant. I have played it over and over again. Mention must also be made in this, his 80th birthday year, of Carl Davis, whose music from Pride and Prejudice ends this gloriously escapist album on a high.

Download from iTunes >
Buy from Amazon >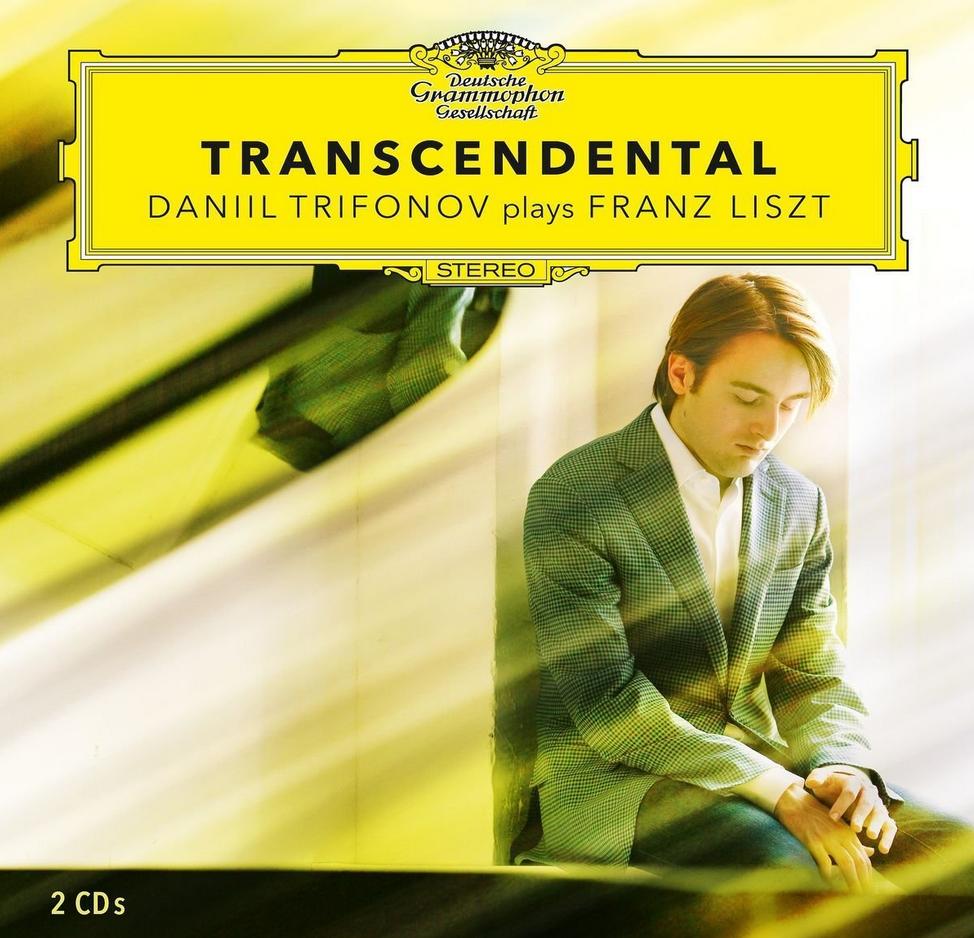 Liszt: Transcendental
Daniil Trifonov
DG 4795529

It's a paradox that there have never been more, technically accomplished young pianists out there than now, but so few show signs of greatness. One who maybe does is 25-year old Daniil Trifonov. His new double album of Liszt's four sets of Études, is mightily impressive. One of the undeniably great pianists of today, Martha Argerich, says Trifinov has "everything and more …… what he does with his hands is technically incredible. It's also his touch – he has tenderness and also the demonic element. I have never heard anything like that." High praise indeed, much of it vindicated here. In La Campanella, Trifonov unleashes a demonic right hand. In the so called 'Octave' étude, he shows real wit. I especially like two of the Concert Études, where, in La Leggierezza, he fully unleashes the formidable technique that so captivates Argerich, whilst producing plenty of poetry in Un Sospiro. What he still lacks is the magisterial authority, the grand manner if you like, that made Sviatoslav Richter's Liszt so special, and can be found throughout a magnificent Decca box of great Liszt playing from the late Jorge Bolet. But, hopefully, that will come as the years roll inexorably on.
Download from iTunes >
Buy from Amazon >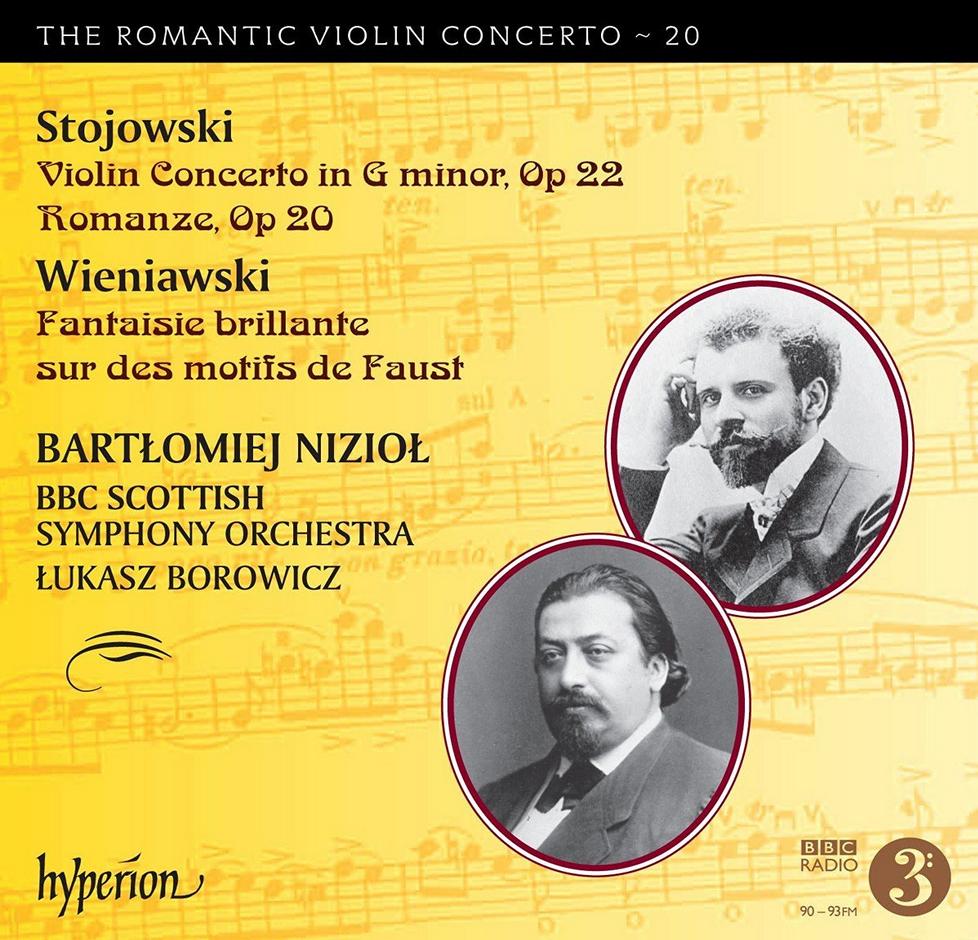 Stojowski/Wieniawski: Violin Concerto etc.
Bartlomiej Niziol/BBC Scottish Symphony Orchestra/Lukasz Borowicz
Hyperion CDA68102

What would we do without Hyperion? Not only do they make superb recordings of well-established repertoire, but more than any other company they push the boundaries out to embrace a whole lot of music that otherwise we would have no chance of hearing, such as these Stojowski violin pieces. Their Romantic Piano Concerto series now runs to more than 50 issues, this is the 20th in their Romantic Violin Concerto series, and they have already started on a similar cello collection. Well done them. All of us who love classical music owe Hyperion a huge debt of gratitude. Zygmunt Stojowski (1869-1946) was a Paris trained pianist, who had a respectable musical career, without ever hitting the high spots. This violin concerto is well written, and only lacks killer tunes to make it a real winner. It is nonetheless, even without magnificent melodies, an entertaining listen. Of the two fillers, Stojowski's Romanze for violin and orchestra does have a pretty melody at the heart of it, and is well worth hearing – a charming miniature. Best of all perhaps is the other substantial filler, lasting almost 20 minutes, from the short lived virtuoso fiddler Henryk Wieniawski (1835-1880) whose fame extended all over Europe, and who was a tireless concert giver. Like most virtuosi of his period, he composed his own stuff to show off his dazzling technique, and this fantasy on themes from Gounod's Faust is full of good things, and extremely attractively laid out for the violin and the orchestra. This is an off the beaten track issue, that is well worth exploring.
Download from iTunes >
Buy from Amazon >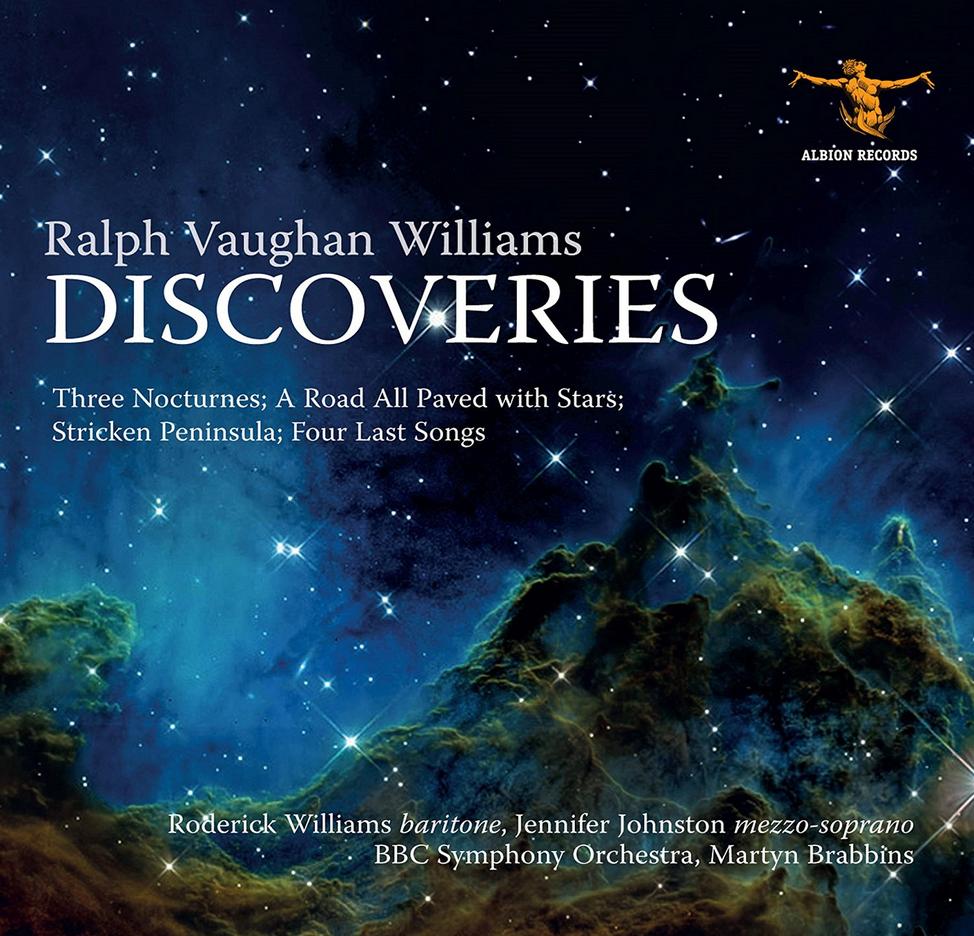 Vaughan Williams: Discovery
Roderick Williams/Jennifer Johnston/BBC Symphony Orchestra/Martyn Brabbins
Albion Records

This is an invaluable issue for Vaughan Williams fans, but not perhaps readily recommendable to the general listener. This is a product of the Vaughan Williams Society, who rightly are looking at stuff by an exceptionally diligent and prolific composer, that hasn't come to public notice, or needs a helping hand to do so. Pieces like The Three Nocturnes, composed around the time that VW was taking orchestration lessons from Ravel (1908). Only a few years ago the second Nocturne was discovered properly orchestrated by VW with obvious Ravelian influences. Anthony Payne has now orchestrated the other two, and they sound excellent, as delivered by the outstanding baritone Roderick Williams. One of VW's failures so far as the public is concerned was the opera The Poisoned Kiss. The RVW Society invited Adrian Williams to rescue some of the terrific music locked up there, and turn it into a half an hour orchestral suite, which he does brilliantly. The third of the four items here is a so called Italian Rhapsody for orchestra, reconstructed from a propaganda film form the end of WW2 by the light music specialist and musicologist Philip Lane. This enterprising 65-minute album is completed by a so called set of Four Last Songs for mezzo and orchestra, the orchestrations being once again sensitively done by Anthony Payne.

Buy from Amazon >
David Mellor is Opera and Classical Critic of the Mail on Sunday and presenter of his own show on Classic FM, Sundays 7pm.