Harrison Ford: 'Raiders March follows me everywhere… it was in my last colonoscopy!'
29 June 2023, 17:54 | Updated: 30 June 2023, 12:47
Harrison Ford: 'Raiders March follows me everywhere… it was in my last colonoscopy!' | Classic FM
As Indy embarks on his final adventure, Harrison Ford recalls how John Williams' musical themes have followed him around since 1981, cropping up in some of the most surprising places…
Over 40 years after the release of Indiana Jones and the Raiders of the Lost Ark (1981), Harrison Ford still fondly remembers the first time he heard Indy's theme, 'Raiders March', composed by John Williams for the original film.
"This damn music follows me everywhere I go. And thank you!" Ford would tell the legendary composer years later, he recalled in an interview with Classic FM about the final film in the franchise, Indiana Jones and the Dial of Destiny.
Speaking alongside director James Mangold, in an interview to be featured on Saturday Night at the Movies with Jonathan Ross at 7pm this Saturday, Ford told of hearing 'Raiders March' in some quite unexpected places.
"I mean, I'm walking down the street in New York on a busy street and…" – "Bah, ba-ba bah!" Mangold interjects, in song.
"…There's a fire truck there," Ford continued. "And by the time I get to the end of the ladder, they're playing that theme out of the speakers on the fire truck."
Then, Ford added: "The music was playing on the speakers in the operating room when I had my last colonoscopy!
"It follows me everywhere … but I love it," he said. "And I'm happy to march to that tune."
Read more: Why Beethoven's Fifth Symphony makes a surprise appearance in Indiana Jones 5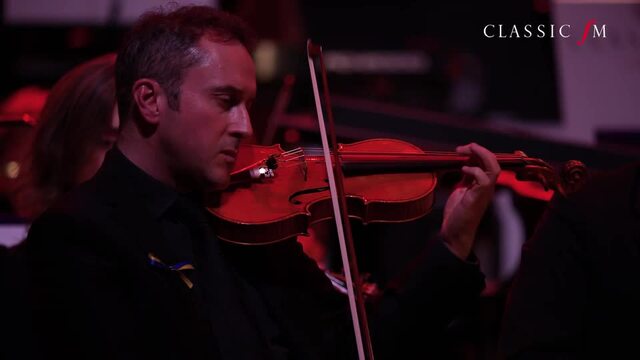 Bournemouth Symphony Orchestra and Kirill Karabits perform 'Raiders March' at Classic FM Live
Ford and Mangold agreed that what John Williams' music gives to the Indy films is "soul".
"And beyond that," the director said, "a kind of framing in the context of Golden Age cinema.
"John's music is inspired by the work of Nicholas Rosa, Erich Korngold and all these incredible composers who composed golden age scores for movies, from Spartacus to Robin Hood using the orchestra – using the full orchestra."
Williams has made an indelible contribution to cinema, notching his first Oscar nod way back in 1967 for his score to Valley of the Dolls.
Now aged 91, the composer had only intended to return to the Indiana Jones franchise to write a theme here and there – but, as Mangold tells it, after putting pen to paper, Williams couldn't quite resist going all the way. In the end, for The Dial of Destiny, he ended up writing and conducting over two hours of new orchestral music.
"I think one of John's gifts – he's one of our greatest movie composers of all time – but one of the things he's done in the later part of the 20th century until now, is he's also championed the orchestra at a time when it's been forgotten in movie scores," Mangold said.
Read more: John Williams emerges from behind curtain, to conduct surprise 'Indiana Jones' at US premiere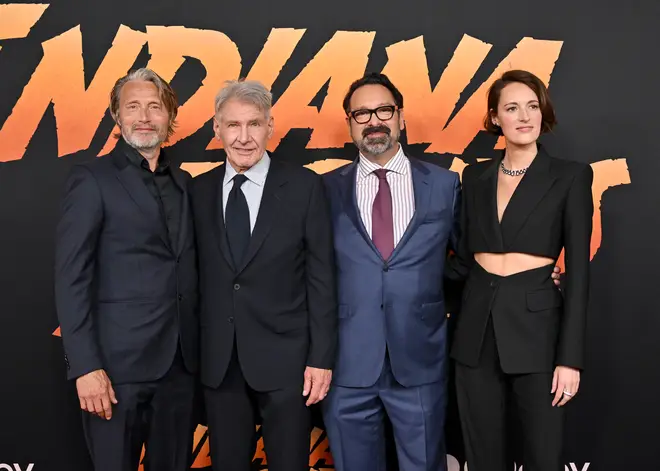 "Movie scores now," he added, "are more and more a product of computers and synthesisers and kind of tones and almost kind of sound design as much as they are music.
"And John is a man of melody. He's a man of the orchestra. And like my other collaborators on this movie, he's someone who loves classic cinema, and loves mining those old scores."
Williams' symphonic, instrument-rich scores have not only shaped the history of film music – from the extraordinary power of his two-note Jaws motif from the cello and bass section, to that masterful solo trumpet fanfare that opens the Star Wars Main Title. They have taken on a life beyond the silver screen, and are heard today in concert halls across the world, performed by leading orchestras including the Vienna Philharmonic and London Symphony Orchestra.
"I think he's been an ambassador for orchestral music to the world," Mangold said. "His movie scores, Star Wars, Indy, Superman – I mean, all of Stephen [Spielberg]'s movies – have been so popular, but what they've also done, and did to me, as a young man, is they led me to classical music, is they led me to the orchestra.
"I grew up in a world of rock and roll and John was my emissary or my ambassador, into the glory of classical music."
Hear more from Harrison Ford and James Mangold on Indiana Jones 5 on Saturday Night at the Movies with Jonathan Ross this Saturday, 1 July at 7pm.