John Williams emerges from behind curtain, to conduct surprise 'Indiana Jones' at US premiere
16 June 2023, 16:56 | Updated: 16 June 2023, 22:44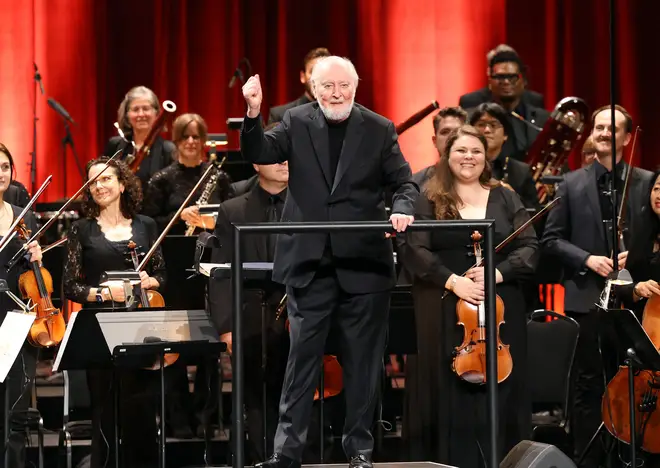 Legendary composer John Williams conducted a surprise orchestral set at the US premiere of 'Indiana Jones and the Dial of Destiny', to the audience's delight.
Attendees of the US premiere of Indiana Jones and the Dial of Destiny on 15 June were in for a treat, as John Williams made a surprise appearance on stage with a live symphony orchestra to play the franchise's much-loved music.
Before audiences saw the film for the first time, some of the franchise's most famous faces, including George Lucas and Steven Spielberg, were introduced to the stage.
After a few moments, Spielberg was handed the microphone, and he began paying tribute to his long-time collaborator and friend, John Williams.
"The person who is the glue to all five of these films, who gave us all of our rhythm and all of our melody, the great maestro, John Williams," Spielberg said.
As he announced his long-time collaborator's name, the screen behind Spielberg rose like a curtain to reveal Williams and orchestra. "This is amazing," members of the audiences can be heard saying in shock.
Williams then led the orchestra in 12 minutes of glorious music from Indiana Jones, from the iconic main melody to some of the composer's newer themes, including music from The Dial of Destiny.
Read more: Film composer Hans Zimmer proposes to his girlfriend on stage at London arena concert
Indiana Jones and the Dial of Destiny Premiere: John Williams performs
"We have a tradition with Indiana Jones which is that Indy has his music in all the various moves that he has, and his action scenes and comedy, and so many modes, the music is always there," Williams told the audience.
"The other part of the tradition," Williams added, "Is that we usually have a theme for the heroine or leading lady. In this film we have Phoebe Waller-Bridge. You'll see the most brilliant duet between Harrison and Phoebe as they do their wonderful witty dialogue and action and comedy and jeopardy."
Williams continued, "Phoebe will be represented musically by a lyrical piece, reminiscent of the '40s and '50s and old Hollywood… This is 'Helena's Theme.' It's all about Phoebe, not all parts of her, but a lot of it."
Read more: Steven Spielberg confirms a documentary on film music legend John Williams is coming
Indiana Jones and the Dial of Destiny - Intro & John Williams Live Performance at U.S. Premiere
The 91-year-old composer, who earlier this year became the oldest person to be nominated for an Oscar, was set to lay down his baton after Indiana Jones. But in January, he reversed on his decision, admitting that he "couldn't say no" to Steven Spielberg on an additional upcoming project.
Spielberg then revealed that he was making a documentary on Williams' life. A release date has not yet been given, but we can take a guess at who could be providing the soundtrack...