'The most difficult thing as a young composer is to find your own voice', says Ludovico Einaudi
16 August 2016, 15:23 | Updated: 16 August 2016, 15:27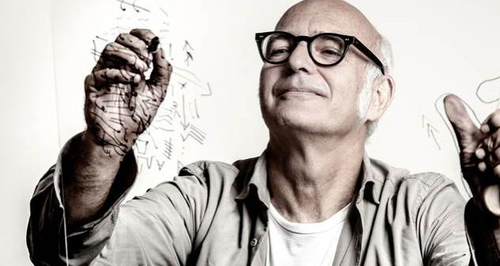 The hugely successful Italian composer speaks exclusively about striving for perfection, a childhood filled with music and why he'd like to have a cup of tea with Bach
What's your earliest musical memory?
My earliest musical memory is connected to my family, especially with my mother. She was playing some folk songs – children's songs – from a book of old folk songs from France.
How did you end up playing the piano and composing?
Well, of course I heard my mother singing every day, it was like a perfume that surrounded my life in my childhood. My mother's father was a conductor and during the war he went to Australia to work – he stayed there and died soon after the war. My mother didn't see him again. So for her, music was a way of connecting with her father. And I think this sense of music being connected with distance and loss was passed on to me.
What advice would you give to someone who wanted to become a composer?
The path to being a composer is not only a technical path – of course you have to prepare yourself with technical tools. But the most difficult thing is to find your voice. Sometimes I see younger guys that come to me and they give me CDs of music that resemble what I do – and this is a mistake. You should diversify your experiments in writing.
Which recording or project are you proudest of?
I think each project is connected to a moment in my life, so I don't want to select. It's like being told to chose between your children.
Is there a recording or project you'd like to go back and do again?
No recording sounds exactly as you imagined in your mind. You have an idea of perfection when you start but we are human. At the beginning of my career I suffered a lot when the quality of sound in a recording wasn't what I wanted, but I learned to deal with that.
Which composer would you most like to have a drink with and why?
I think I'd like to have tea with Bach, because in his music there is a balance between architecture and emotion. The spirituality of the music is something that I always search for in what I do, because I think that music has to have everything inside: a strong architecture, a support, the emotion. The stronger the architecture the higher you can go up in the sky.
Ludovico Einaudi's latest recording, Elements, is available to buy now.