Why Bill Bailey thinks Debussy's Arabesque is the perfect soundtrack to his life
16 March 2023, 14:01 | Updated: 16 March 2023, 14:04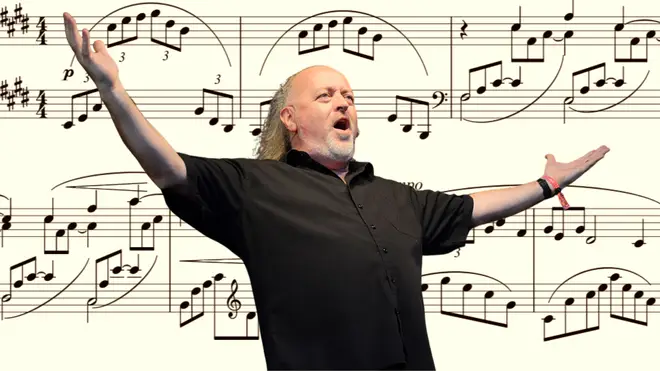 Comedian and actor Bill Bailey on the magic of Debussy's Arabesque, and why it's the perfect piece of music to describe his life...
Classic FM sat down with comedian, Bill Bailey and asked him 10 random questions which he then responded to through music.
The English comedian and actor is also a classically trained musician, and started playing the piano at the age of four. He was the only pupil at his school to take an A Level in Music, passing the exam with an 'A' grade.
The sixth question asked of the multi-talented celebrity was, "If your life was a piece of music, what would it be, and why?". In response, Bailey began to play Claude Debussy's Arabesque No. 1, the first of his Two Arabesques written for piano while the French composer was still in his 20s.
Explaining his decision while beginning to play, Bailey told Classic FM: "In my life, I've been very lucky. Like the Arabesque, my life began with this rural idyll I lived in. I grew up in the countryside."
The comedian was referencing his "worry-free and carefree" childhood home of Keynsham, a small town between Bristol and Bath in England, and likens his experience there to the pastoral soundscape Debussy creates in the first few lines of his composition. Watch Bailey's full explanation from 06:12 in the video below.
Read more: Blind pianist Lucy's sublime Debussy Arabesque crowned winning performance in The Piano finale
Bill Bailey Answers 10 Random Questions Through Music | Classic FM
Continuing on, Bailey played a later more "serious" section of the piece where he likened Debussy's writing to what happened next in his life.
"And [here's where] life on a little bit more responsibility," he said, alluding to a more serious period of his life where he had to work hard to get to position he is in today, as an internationally touring artist and award-winning comedian.
However, Bailey then returned back to the opening theme, which in Debussy's Arabesque also returns at the end of the work, and remarked, "Now I'm back to full circle. I'm enjoying the natural world more."
While now living in London as opposed to his countryside childhood town, Bailey's return to nature is a reference to his work in environmental conservationism.
Read more: Bill Bailey just proved the 'Match of the Day' theme sounds WAY better with an Alberti bass
In 2020, Bailey released a book on the joys of being in nature, where he explore the nature of happiness, all while doing outdoor activities such as wild swimming in a glacial river, paddle boarding on the Thames, and even hugging a tree. For his work in environmentalism, he also holds an honorary doctorate in conservation and sustainability from the Australian University of the Sunshine Coast.
With Debussy himself a passionate lover of nature and the natural world, as evidenced in his letters and inspired pieces, it's no wonder Bailey chose this composer's work as his personal life soundtrack. On the subject of the relation between music and nature, the composer once wrote in an article for French publication Musica in 1903, "there is nothing more musical than a sunset.
"He who feels what he sees will find no more beautiful example of development in all that book which, alas, musicians read but too little – the book of Nature".