Bradley Cooper spent six years learning to conduct 'six minutes of music' for epic 'Maestro' scene
17 November 2023, 13:26 | Updated: 17 November 2023, 21:46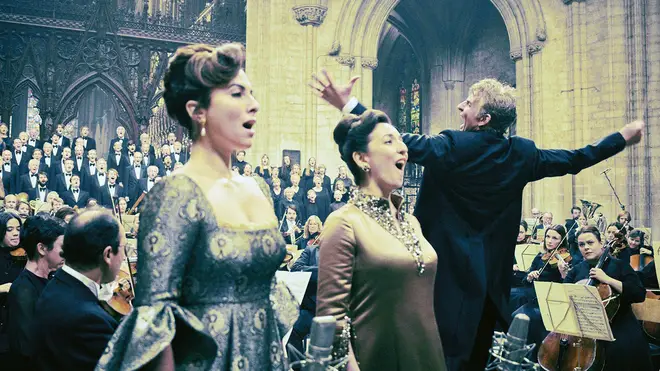 The 'Maestro' actor revealed that it took six years of preparation to conduct the London Symphony Orchestra in a recreation of Leonard Bernstein's 1976 performance of Mahler's 'Resurrection' Symphony.
Bradley Cooper has revealed he spent six years learning to conduct in preparation for his role as legendary conductor and composer Leonard Bernstein in the upcoming film Maestro.
In a New York screening of the film alongside co-stars Carey Mulligan and Matt Bomer, Cooper told panel moderator Lin Manuel Miranda that he had been "terrified" of a particularly demanding scene in Ely Cathedral, and had spent six years preparing for that moment.
Maestro sees Cooper recreate Bernstein's iconic 1976 performance of Mahler's 'Resurrection' Symphony No.2 in the Cambridgeshire cathedral – a challenging feat involving the real life London Symphony Orchestra, a 100-strong chorus, and two soloists.
The first glimpse of the scene came in the film's second trailer (watch below), released on 25 October.
"That scene I was so worried about because we did it live," Cooper told Miranda. "That was the London Symphony Orchestra. I was recorded live, I had to conduct them."
Read more: Monumental official trailer for Bernstein biopic 'Maestro' is finally released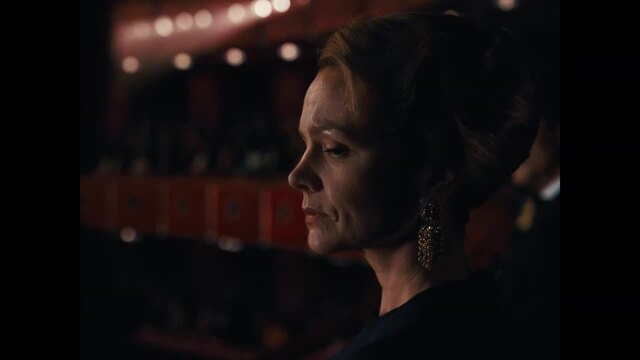 Watch the trailer for Maestro
"I spent six years learning how to conduct six minutes and 21 seconds of music," Cooper said, having previously told The Late Show host Stephen Colbert that he'd spent "hundreds of hours" in practice, and had even asked for a conducting baton for Christmas when he was eight years old.
At the New York screening, Cooper went on to tell Miranda: "I was able to get the raw take where I just watched Leonard Bernstein at Ely Cathedral ... and so I had that to study."
Cooper also credited star conductor Yannick Nézet-Séguin, who acted as 'conductor consultant' for the film, with helping him to master the scene: "Yannick Nézet-Séguin made videos with all the tempo changes, so I had all of the materials to just work on.
"I think that I knew, I was terrified, absolutely terrified that if I hadn't done the work that I wouldn't be able to enjoy myself in these scenes."
Read more: Bradley Cooper reveals he is classically trained and 'has spent hundreds of hours conducting'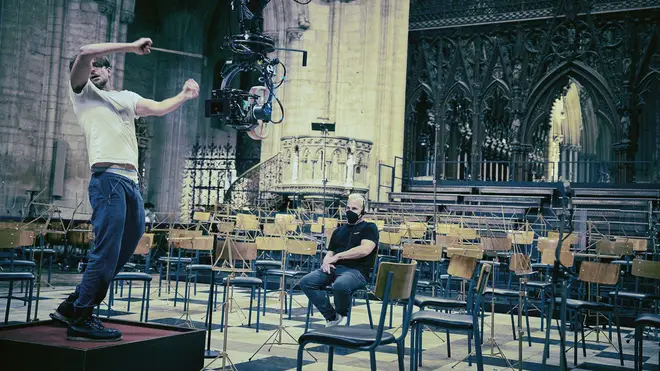 Members of the London Symphony Orchestra involved in filming the scene told The Guardian about Bradley Cooper's dedication to the role: "even though none of it was being captured on camera, when he was talking to the orchestra, he was talking in his Bernstein voice," violinist Clare Duckworth recalled.
Cooper and the Maestro crew went to painstaking levels of detail in recreating the performance, from the exact positioning of the orchestra members to reproducing programmes for the event, which didn't even appear on camera.
Many of the LSO musicians were also asked to grow beards, not cut their hair, and bespoke prescription glasses were ordered in for bespectacled players in the orchestra, for maximum authenticity.
Early reviews for Maestro have praised Cooper's performance and directorship, and the film received a seven-minute standing ovation when it premiered at Venice Film Festival earlier in the year, reportedly also bringing Bernstein's three children Jamie, Alexander and Nina to tears.
Jamie Bernstein, the eldest of the three siblings, previously told Classic FM about Bradley Cooper's extreme 'immersion' in the film's subject as he prepared his performance: "He's doing everything. He's a total immersion guy, and he's just maniacally immersed in all things Leonard Bernstein, so he's asking us lots of questions all the time and has been very generous with his whole process."
Read more: Leonard Bernstein's daughter Jamie: 'I wish my father was around to see Maestro!'
She continued: "It's incredibly strange and disconcerting, to have this young movie star portraying our dad at several ages. It's a portrait of our parents' marriage. It's about something very specific and very personal for us.
"We're really struck by the fact that this was the aspect of the story that Bradley decided to focus in on and we're very excited about Carey Mulligan as our mother Felicia; I promise you she is going to send it to the moon in a rocket."
Maestro is out in select cinemas on 22 November and lands on Netflix on 20 December.