Historic footage of Maria Callas' 1958 Paris gala is restored and colourised for first time
13 November 2023, 13:24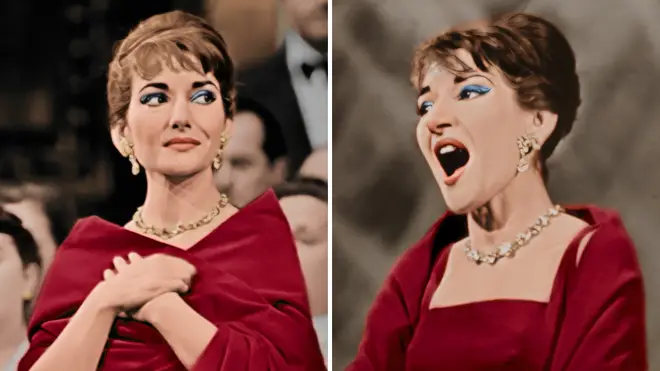 Opera diva Maria Callas gave an unforgettable performance in 1958, in Paris. Now, we can see it in colour for the first time.
To mark the Greek opera diva's centenary in 2023, footage of Maria Callas' historic Paris gala has been meticulously restored and colourised for the first time.
On 19 December in 1958, Callas made her debut in the French capital at the sumptuous Paris Opéra, in a performance attended by the toast of the town.
The likes of Charlie Chaplin and Brigitte Bardot gathered to enjoy a gala of Rossini, Verdi, Bellini, and Puccini from the American-born soprano widely considered "the voice of the 20th century".
Wearing elegant couture and a million dollars' worth of jewellery, Callas opened with her signature aria 'Casta Diva', from Bellini's Norma.
She performed the haunting 'Miserere' from Il trovatore, before lightening the mood with 'Una voce poco fa' from The Barber of Seville.
The great diva brought the evening to a close with a dramatic climax: the entire second act of Tosca. Just listen to that extraordinary voice...
Read more: First look at 'Maria' biopic as Angelina Jolie becomes opera star Maria Callas
Opera diva Maria Callas singing in 1958 – restored and colourised for first time | Classic FM
Callas was one of the most talked about icons of her time, written about even more than Marilyn Monroe and Elizabeth Taylor, who continues to captivate today with the virtuosity of her vocals, alongside the drama and tragedy of her personal life.
Hailed for her extraordinary control and technical agility, Callas gained the affectionate nickname 'La Divina' and would perform in the world's great opera houses.
The film, Callas – Paris, 1958, all came about after an "incredible discovery" by director and producer Tom Volf.
Read more: Who was Maria Callas and why is she one of the greatest opera singers of all time?
"In 2021, in a basement in Athens, I made an incredible discovery – the original film reels of a historical performance; Maria Callas' Paris debut," he said.
"After years of restoration work, I am honoured to be presenting this film not only because it is the first time ever that audiences will see a full colour performance by Maria Callas, but also because it gives us all the chance to experience what it was like to be in that Opera House in 1958 and spend the night with the greatest opera singer of all time."
Callas – Paris 1958 (© Volf Prod. Composite Films) is showing in UK cinemas this November and December, with the next showing on 22 November in select Vue Cinemas.