VIDEO: World piano playing record broken by 88 schoolchildren
21 August 2019, 11:36 | Updated: 21 August 2019, 11:46
88 children just played one piano at the same time, in a record-breaking achievement witnessed by 500 leading engineers from around the world.
The world record for the number of people playing one piano at once has been broken, thanks to a bunch of talented engineers from the University of Cambridge.
The team created an enormous, multi-stringed instrument which allowed 88 children, aged six to 14 years old, to play at the same time. The record previously stood at 21 pianists.
The project began in 2018 when engineers from University of Cambridge decided to try and break that record, to commemorate the 500th anniversary of Leonardo Da Vinci.
As there are 88 keys on a grand piano, the engineers created mechanical finger extensions to allow 88 people to play at the same time – one for each key, to ensure their record would never be broken.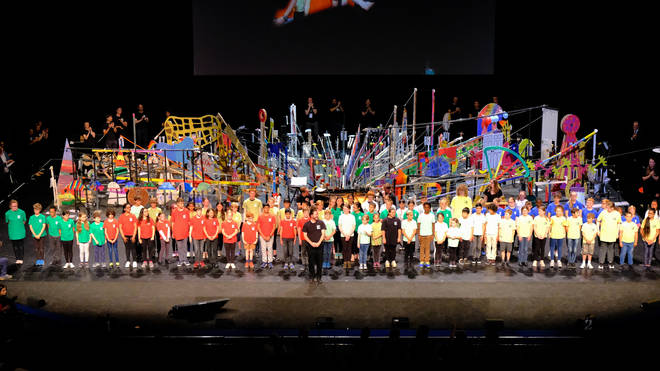 Together with nine other top UK universities, they attended and worked with primary schools from across the UK to design the mechanisms.
Of a total of 2,500 submissions, 88 inventions were chosen, all built by engineers and schoolchildren. The pupils came from schools in Cambridge, Norfolk, the Midlands, South Yorkshire, West Yorkshire and Liverpool.
The project culminated in 88 schoolchildren playing to over 500 leading engineers from around the world, who had gathered together in Birmingham's International Convention Centre for their annual meeting.
Royal Birmingham Conservatoire, BCU were the musical partner on the 88 pianists initiative, which was featured on The One Show on Tuesday 20 August.