'They tear gassed children with violins' – people at Elijah McClain vigil claim police brutality
30 June 2020, 17:57 | Updated: 30 June 2020, 18:13
Elijah McClain vigil cut short by police
Stories emerge of what happened in Colorado on Saturday, when a peaceful musical vigil was broken up by riot police.
On Saturday in Aurora, Colorado, several thousand people attended a protest and musical vigil for Elijah McClain, a 23-year-old massage therapist and violinist, who died as the result of a police arrest in August last year. McClain's death has been seen by many as another example of police brutality to people of colour.
A 'violin vigil' for Elijah was due to begin at 8.30pm, with everyone invited to bring string instruments and play in solidarity. But around the same time, the Aurora Police Department arrived at the park with riot gear.
Classic FM spoke to three people who were at the vigil, who shared what they experienced.
Sarah: 'There was beating and spraying at point-blank range'
Just minutes after we arrived in Aurora for the violin vigil to honour Elijah McClain, we watched in horror as police in SWAT gear began tear gassing and brutally beating peaceful protesters.
The police aggressively advanced towards the musicians, forcing us away from the space in which we had intended to hold a peaceful vigil for Elijah. Tear gassing seated protestors, children with violins, beating and spraying at point-blank range...
Because of this, musicians were splintered apart from one another. Separated, at least two or three groups of musicians continued performing string vigils. My fiancé and I were among those pushed back toward a small grassy median, where a vigil for Elijah was able to continue peacefully.
As we drove into Aurora that day, we were treated to the sight of a brilliant rainbow. And fittingly, the vigil ended with violinists Ashanti Floyd and Lee England Jr leading a rendition of 'Somewhere Over the Rainbow'. 🎻🌈Elijah McClain. Rest in Power.
Dr. Joy Adams: 'We played Pachelbel while the police violently attacked the crowd.'
We arrived at 8 pm and began to play music with a group of violinists and cellists outside of the police building in City Park in Aurora. The crowd sat peacefully on the ground, some holding roses, others holding candles, and many were crying. The crowd included small children playing violins and cellos in honour of Elijah McClain. 
At 8.30pm, about 200 police in riot gear attacked the peaceful crowd, beating people with batons, firing tear gas into the crowd, and spraying people in the face with pepper spray. It was horrible.
The people crowded around us musicians, crying, and begged us to hold the line and keep playing. And so we played. We played Pachelbel's Canon while the police violently attacked the crowd. I will never forget this moment for as long as I live. Elijah McClain's sister was there, and I saw her stand 10 feet from the police, crying and crying. I have cried endlessly since that night.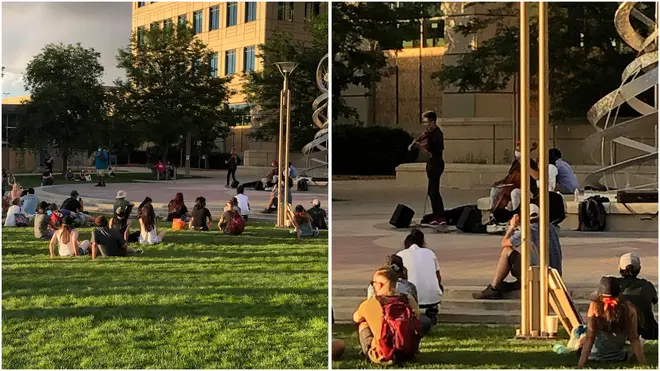 Tiffany: 'We watched as they let out chemicals'
My daughter is 15 and plays for the Colorado Youth Symphony Orchestra. We arrived about an hour before the violin vigil was due to begin. We listened for about 10 minutes as my daughter and her best friend tuned their violins and gathered the courage to approach the stage area. People were gathering on the grass to watch, with face masks, and sitting in small areas naturally spaced. That's when the police came out from an adjacent fenced area in full riot gear. We then watched as they let out chemicals.
We could hear rubber bullets being discharged and while they say they only used pepper spray, we saw canisters of smoke being thrown at the protestors. The protestors were pushed into the musicians by the police. It was intense and completely unnecessary. No matter the reports, there were people wounded for certain.
We went to the parking lot trying to keep the girls safe from the chaos. A gentleman in a black truck stopped us and asked the girls if they were there to play. He had amplifiers and an electric violin. Offered the girls a ride in the truck if the police began attacking the musicians directly. He then began playing and performed through the chaos.
My daughter is terribly angry. It was horrific but also something she at 15 needed to see and experience. We never expected there to be any issues. This was meant to be a vigil, peaceful celebration of life, and a protest against the sort of violence surrounding Elijah McClain's death.
Responding to criticism about their handling of the protest and vigil, an Aurora Police Department spokesperson told The Denver Channel that a small group of people had pushed down a fence, and were arming themselves with rocks and sticks, throwing water bottles at the officers.
"These actions endangered the peaceful protestors and the officers," a spokesperson said.