Oscars soundtrack nominations 2019: who are the nominees and how can I download the music?
22 January 2019, 13:40 | Updated: 1 February 2019, 09:49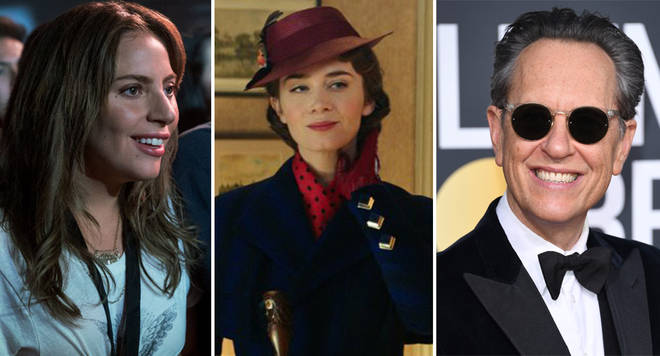 Following months of predictions and bookies bets, nominations for the 91st Academy Awards have finally been announced. But how much do you know about the nominees for Best Original Score and Best Original Song?
It might seem impossible for anything other than A Star is Born and its iconic trailer track 'Shallow' to claim this year's prestigious Oscars soundtrack awards.
But believe it or not, there are some other very strong contenders in the Best Original Score and Best Original Song categories.
From Alexandre Desplat's score for Isle of Dogs to the tender ballad 'The Place Where Lost Things Go' from Marc Shaiman's score for Mary Poppins Returns, here are all the nominees and links to download the tracks.
Oscar-winning movie soundtracks from history >
What are the nominees for Best Original Song?
'Shallow' – A Star is Born

Since its release last October, the original country-rock music to Bradley Cooper's directorial debut (complimented by his own delightfully gravelly vocals) has been topping charts all over the globe.

But it's Cooper and leading actress Lady Gaga's deliciously raucous duet 'Shallow' that has really taken the biscuit. Co-written and co-produced by Gaga, the song has already received a Golden Globe for Best Original Song as well as four Grammy Award nominations – and it's a very strong contender at this year's Oscars.

'All the Stars' – Black Panther

It's a tough feat to create a successful soundtrack single and a worldwide pop hit – but Kendrick Lamar and SZA managed it with their catchy soprano-vocalised chorus.

Seamlessly fitting in with the rest of the top 40, 'All the Stars' reached No. 1 in four countries, and has already been nominated for four Grammy Awards.

'The Place Where Lost Things Go' – Mary Poppins Returns

Written by composer Marc Shaiman and vocalised by Emily Blunt, the tender ballad from the sequel to Mary Poppins has fast become one of the most popular songs on this memorable new soundtrack.

Classic FM presenter Catherine Bott, who is also an acclaimed soprano, said of Blunt's performance: "In the tender 'The place Where Lost Things Go', Blunt sings and acts to perfection, with musical phrasing and lots of breath in her voice, perfectly pitched on every note (well, you'd expect no less from Mary Poppins)."

'I'll Fight' – RBG

From the documentary about the extraordinary legacy of US Supreme Court Justice Ruth Bader Ginsburg, 'I'll Fight' is a powerful song which almost rivals last year's anthemic success story, 'This is Me' (from The Greatest Showman).

Sung by Dreamgirls actress Jennifer Hudson and written by prolific songwriter Diane Warren, it's another strong contender for Best Original Song.

'When a Cowboy Trades his Spurs for Wings' – The Ballad Of Buster Scruggs

Written by David Rawlings and Gillian Welch and performed by Willie Watson and Tim Blake Nelson, 'When a Cowboy Trades his Spurs for Wings' is part of the soundtrack album to the Netflix original film The Ballad Of Buster Scruggs.

It's an old-school country folk song complete with lovely harmonies and a nostalgic harmonica – and it's pretty great.
What are the nominees for Best Original Score?
Isle of Dogs – Alexandre Desplat

It seems Wes Anderson can do no wrong, having previously won a BAFTA for best 'Original Screenplay' for The Grand Budapest Hotel. The film also received three Oscar nominations.

Now, the soundtrack to Anderson's latest stop-motion film Isle of Dogs – composed by Oscar-winning composer Alexandre Desplat – has been selected for the Academy's list.

Featuring the Japanese-inspired track 'Shinto Shine' and music to those unforgettable scenes, 'Second Crash-Landing + Bath House + Beach Attack', it's a worthy nominee.

BlacKkKlansman – Terence Blanchard

Spike Lee's crime drama tells the story of Ron Stallworth, an African-American police officer from Colorado who successfully infiltrates the Ku Klux Klan.

Written by Terence Blanchard, the soundtrack for BlackkKlansman is the first film listed in this prestigious category.

A fusion of classical and funk, popular tracks include the main theme and 'Blut Und Boden' (Blood and Soil), complete with soaring strings and a dramatic guitar solo.

Black Panther – Ludwig Göransson

Quite different to Kendrick Lamar's original hip-hop songs for the soundtrack, Swedish composer Göransson's score for Black Panther was inspired by the sounds of Africa. He uses recordings of talking drums and a tambin, plus a live choir singing in the Xhosa language – and combines it with the classical orchestra you might expect to hear in a superhero movie.

Görasson's score has been praised for its authenticity and uniqueness among other Marvel film scores.

If Beale Street Could Talk – Nicholas Brittel

Directed by Barry Jenkins, this American romantic drama is a timeless tale set in early-1970s Harlem. Nicholas Britell – also the man behind the music for Moonlight – wrote the movie's original score, which includes the beautifully orchestrated 'Agape' and 'Eros'.

Speaking about his collaboration with Jenkins, the composer told Pitchfork: "Together, we explored a sonic landscape filled with brass and strings, while also venturing into some quite extreme experimentation.

"I'm always fascinated by the mysteries of scoring a film. As Barry and I worked together, we discovered certain sounds which we felt deeply resonated with the story."

Mary Poppins Returns – Marc Shaiman

Starring Emily Blunt and Hamilton's Lin-Manuel Miranda, this highly-anticipated sequel and its catchy soundtrack have been causing quite a stir among fans of the '60s original.

The album includes nine brand-new songs written by American composer Marc Shaiman, who collaborated with lyricist and Broadway writer Scott Wittman to really do them justice.

There's no 'Supercalifragilisticexpialidocious', but Shaiman's score – which includes 'Kite Takes Off' and 'Race to Big Ben' – is just as memorable.
The 91st Academy Awards ceremony will take place on 25 February at 1.00am GMT. It will be aired on Sky for UK viewers, and on ABC for US viewers. The red carpet arrivals will begin around 12am GMT.