The 10 best video game soundtracks of 2016
10 December 2016, 18:45 | Updated: 6 January 2017, 14:45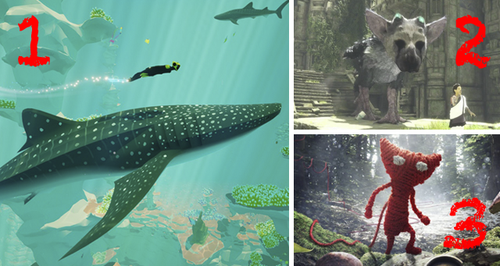 Our Saturday Night at the Movies presenter Andrew Collins reveals his video game score of the year and his top 10 - with a little help from Classic FM listeners.
What a thrilling and varied year It's been for videogame scores, with two late entries – both Japanese – rising straight to the top of our end-of-year scorecard, and even more artistry and originality from composers faced with ever more intricate and unfathomable worlds to bring to life with their music.
Listen again to our video games special (until Friday 16 December) >
We were spoilt for choice when it came to compiling a top 10, and were happy to bow to our gaming listeners for a second opinion:
My top three
1. Abzu - Austin Wintory (my video game score of the year)
Having exclusively previewed this hauntingly ambient score on Saturday Night at the Movies back in July, we're still mesmerised by it, not least a ten-minute track you can really lose yourself in, Their Waters Were Mingled Together (below). The chimes, strings and the celestial London Voices combine to summon the undersea world the game creates.
Austin Wintory's advice for musicians >
Regular listener Charlie Brigden described this as an "absolute masterpiece"; Fran Parrett in Bexleyheath called it "simply beautiful".
Mr Wintory was chuffed to be named videogame score of the year, telling us that Classic FM has become "a staple of my online music consumption", describing the score as "a long and difficult labour of love. Thank you so very much!"
2. The Last Guardian - Takeshi Furukawa
Tokyo-born Furukawa was raised in LA and inspired early on by Jurassic Park and Final Fantasy. His score for this long-gestated, hot-off-the-press, intuitive fantasy game about a boy who befriends a giant half-bird, half-mammal is truly epic, with chord changes to break your heart. Furukawa describes it as a "sensitive game" – like an ambient Japanese version of How to Train Your Dragon.
3. Unravel - Frida Johansson & Henrik Oja
This delightful and very Swedish puzzle platform game stars a soft creature made from red string called Yarny. Scored with a kind of artisanal melancholy – featuring harmonica, voices and trumpet, it's "brilliantly moving", according to listener Samantha Cobden. A key piece called The Red Thread "really encapsulates the struggle, journey and outstanding beauty of the game".
Best of the rest
Dear Esther: Landmark Edition - Jessica Curry
A little bit of a cheat, but this uniquely narrative-free gaming experience from Brighton-based developer The Chinese Room, originally released commercially in 2012, arrived on PlayStation 4 and Xbox One this year in a Landmark Edition. Composer Jessica Curry provided us with the best games score of 2015 in Everybody's Gone to the Rapture, and this was conceived and scored in the same minimalist way. Set on a Hebridean island with a past, this is the opposite of a noisy, first-person combat game, and its music fits the mood, aided by the voice of Louisa Fuller and the piano of Andrew Skeet.
Civilization VI - Geoff Knorr/Christopher Tin
Geoff Knorr has again scored the latest blockbusting iteration of nation-building engine Civilization VI – with Roland Rizzo and Phill Boucher – carefully designed to accompany developments such as war and advances in culture, while Christopher Tin has provided a powerful main theme. Listener Richard Stokes called it "a wonderful theme" that "really makes you feel like you are taking off in flight to some fantastical place". The theme, Sogno di Volare (The Dream of Flight) mixes choral wonder with a fair old gallop.
Final Fantasy XV - Yoko Shimomura
One of the big releases of 2016, Final Fantasy XV is a year away from its 30th anniversary, and once again its score really announces its own arrival in a truly Wagnerian sense. The game shifted five million copies in 24 hours, and Shimomura's scores reflects that confidence. Listener Milo Pilkington in Manchester describes it as "absolutely perfect".
Gears of War 4 - Ramin Djawadi
The composer feted for scoring Game of Thrones on TV – and, this year, Westworld – brings the might of his percussive strings to bear on the music for this military-themed sci-fi action franchise, and some subtle touches, too: echoey percussion, distant pounding, discordant chimes. Djawadi wanted to make the score "very different" from Game of Thrones and "push the emotional undertones". Brilliant.
Eagle Flight – Inon Zur
The man behind the music for Dragon Age, Fallout and Fantasia: Music Evolved, Inon Zur has created a score for this French-Canadian simulation set in Paris 50 years after man's extinction, when, happily, nature has thrived. You play an eagle, and Zur's score soars accordingly.
I Am Setsuna – Tomoki Miyoshi
Another Japanese role-playing game set in a land where, Narnia style, it's permanently winter and a maiden – the protagonist – must give herself up for sacrifice to the angry gods, I Am Setsuna's spare, chilly score is gentle enough to appear on Smooth Classics of an evening. The pianist is the legend Randy Kerber, who's performed on over 800 film scores including Harry Potter, Titanic and Forrest Gump.
Revelation – Neal Acree
Composing for the World of Warcraft series since 2006, Acree's work on the free-to-play multi-player game Revelation, released worldwide this year and based on the books of writer Jiang Nan, is among his best, driven by and enhanced by Chinese instrumentation: bamboo flutes, lutes, bells, erhu and deep, resonant drums. Warriors, dungeons and mythical beasts abound in the game itself, and you can imagine them when you hear the music.