French opera houses are making medical masks for COVID-19 frontline workers
28 April 2020, 11:32 | Updated: 28 April 2020, 13:29
With the doors to France's best-loved opera houses closed due to the coronavirus, arts staff are finding admirable new ways to utilise their talents.
As thousands of key workers around the world put their lives at risk to protect us and our loved ones during the coronavirus pandemic, the demand for personal protective equipment (PPE) is growing.
And with the general public also being advised to wear masks during the coronavirus pandemic, many countries are now experiencing chronic shortages.
That's why costume makers from some of France's most prestigious opera institutions have decided to team up and craft medical masks for those on the frontline, replacing the elegant ballet tutus and dramatic opera clothing they usually design.
Throughout April, Christine Neumeister, costume director at Paris Opera, has driven to 30 of her colleague's houses to collect the masks they've been stitching while self-isolating.
Incredibly, her couturiers hand-crafted 1,000 masks for the Red Cross and a Paris maternity hospital within a week – all lovingly delivered in chic tutu bags labelled "Opera de Paris", and a similar number were made a week later for the Salvation Army.
Click here to view the NHS's latest coronavirus advice >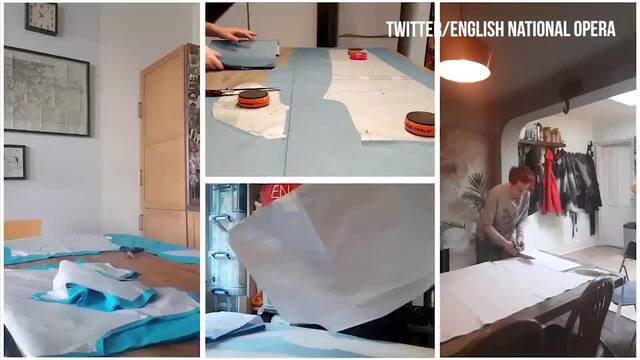 English National Opera make scrubs, masks and hats for London hospitals
Neumeister told France 24: "We have the material and the know-how. It's also rewarding for us too to know that our work, which is an art in itself, can be useful in this moment of crisis. My German grandmother used to say that during the war people who could make something with their hands were the heroes, the kings and the queens."
Describing the masks, which each take around 20 minutes to make and have been carefully designed with lightweight poplin and a cotton fleece in the middle, she added: "They have three folds which resembles a surgical one and which allows you to breathe better than the duck-beak model. It has to be washable to 60 degrees Celsius (140F)."
Other French opera houses joining them in their efforts include Toulouse Opera in southwest France – Isabelle Daumas and 20 of her colleagues have been assisting at many of the disinfect centres set up in the capital to treat people who may have the virus.
Meanwhile, Aude Eisinger at Marseille Opera and her team have been applying social distancing rules in their studio every day to craft masks for the local authorities, kindly using the opera's own stock of fabrics due to fabric shortages.
And Yves Jouen, technical director at the Bordeaux Opera, and his costume makers have experienced a similar issue: "Our usual suppliers of fabric are pretty much out of stock. A small group of costume makers cut the fabric in the opera's workshops before delivering them to the homes of their colleagues who do the sewing. We even have musicians from the orchestra who are sewers lending a hand."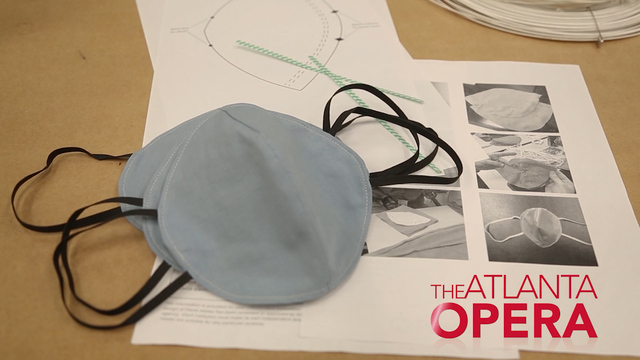 The Atlanta Opera Costume Shop is producing masks for hospitals
Elsewhere in the world, costume makers at English National Opera (ENO) and The Atlanta Opera Costume Shop have also been putting their creativity to good use to lend a helping hand to those on the frontline (watch videos above).
In uncertain times, this is a wonderful show of solidarity from some of the world's best-loved costume makers. Bravo!