12 of the best opera venues around the world
19 September 2019, 09:14 | Updated: 19 September 2019, 09:58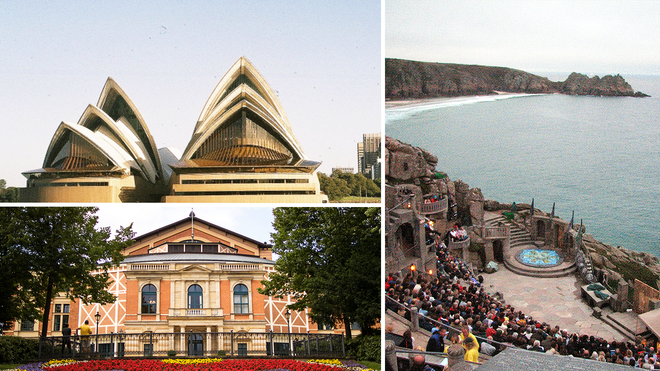 Whether you're an opera novice or an opera buff, these stunning theatres around the world will guarantee you an unforgettable experience.
Opera can be enjoyed anywhere. But luckily for us, it's often within stunning buildings or at fascinating venues that the masterpieces of Mozart and Puccini are showcased.
Here are some essential bucket list destinations for opera lovers.
Sydney Opera House, Australia

Not only one of the most stunning opera houses in world, but also just one of the most stunning buildings full stop. Audacious in design and immediately iconic, the building process was unsurprisingly long: 14 years in total, and with a budget that ballooned from $7m to $102m by the time it was opened in 1973.

Sydney Opera House, Australia.

Picture: Rosie Pentreath

Guangzhou Opera House, China

Designed to resemble two pebbles washed by the nearby Pearl River, this is an absolute stunner of a building, clearly a rival even to Sydney Opera House as one of the most audacious opera houses in the world. But as well as the outrageously cool facade, the auditorium itself is pretty special too, with an exposed granite and glass frame which alone took over five years to build.

Guangzhou Opera House, China.

Picture: Getty

Teatro della Concordia, Italy

With a full capacity of 99 people (62 box seats and just 37 seats in the stalls), this is quite possibly the smallest opera house in the world. Absolutely in proportion and designed impeccably, seeing an opera here promises a truly unique experience.

Royal Opera House, UK

Could this list exist without mention of the Royal Opera House in Covent Garden? No. It could not. Even ignoring the building's unassailable history and significance, the current offering and programming is world-leading in its scope and ambition, and a recent and innovative refurbishment also means this space is more adaptable than ever.

Royal Opera House, London.

Picture: PA

Royal Opera House, India

Situated in Mumbai and now a winner of a UNESCO world heritage award, the Royal Opera House is the last remaining dedicated opera house in the whole country. Its hugely chequered past meant it fell into serious disrepair since King George V inaugurated the building in 1911, and for a long time the only functioning areas in the facility were a tea stall and a few shops. It's now a remarkable space, a testament to the enduring power of opera around the world, and of course a fine proponent of Hindi performances of the operatic canon.

Royal Opera House, India.

Picture: Getty

Metropolitan Opera House, USA

Iconic doesn't begin to cover it: The Met is simply one of the most famous opera houses in the world, based on its star-pulling power, the quality of its productions and, possibly, its lavish gold curtain in the auditorium. The fact is: The Met is the home of opera in the USA.

Glyndebourne, UK

In the UK at least, the word 'Glyndebourne' only means one thing: opera. Well, OK, it also means fancy picnics. And elaborate hats. And long afternoons in the sun-dappled gardens, staring at the sheep during the interval.

The Minack Theatre, UK

Situated literally on the rugged cliffs of Cornwall, this utterly unique and spellbinding open-air amphitheatre has quietly become one of the most magical places to take in an opera.

Minack Theatre, Cornwall, UK.

Picture: PA

Amazon Theatre, Brazil

Impossibly romantic and quixotic in style, the Amazon Theatre is situated in the middle of the Amazon rainforest. Its Renaissance Revival approach saw imported styles from Europe (as well as steel from Glasgow) influence its construction back in 1884, and even today it heroically hosts an annual opera festival, bringing a mix of established opera and lesser-known Amazonian composers.

Amazon Theatre, Brazil.

Picture: Getty

La Scala, Italy

Another of the big boys of opera houses, La Scala has arguably become more famous for its clientele than the actual building ("Boooo!") but it is undoubtedly a remarkable and iconic place to experience opera. After a major refurb in the early noughties, it's also undergone a huge improvement in sound quality (apparently it was partially to do with the carpet), making it an even grander and more satisfying visit.

Bayreuth Festival Theatre, Germany

Wagner built the Bayreuth Festival Theatre in the 19th Century for the sole purpose of housing his epic operas. Parsifal was premiered there in July 1882, and there has been an annual festival held at the opera house ever since.

Bayreuth Festival Hall, Germany.

Picture: PA

Opera North, UK

Classic FM's Opera Company in the UK, Opera North is based at the Leeds Grand Theatre and tours widely. It was originally known as English National Opera North and is now among the largest arts organisations outside London.