Who is Mica Levi, the composer behind the music in 'Monos' and Jonathan Glazer's 'The Fall'?
29 October 2019, 16:14
Both Alejandro Landes's critically acclaimed 'Monos' – out this week – and Jonathan Glazer's TV short, 'The Fall', which aired on Sunday, have powerful scores. Here's everything you need to know about their composer.
A short film – The Fall – by Jonathan Glazer (Under the Skin, Sexy Beast) aired with little fanfare, five minutes before Live at the Apollo on Sunday night.
It has no dialogue and is a frankly terrifying sequence featuring nooses and masked men – inspired by a glib photo featuring a couple of Trump Jrs after an apparent hunting kill, a Bertolt Brecht poem and a macabre Goya self portrait, according to this Guardian article.
The music accompanying Glazer's short film is as disquieting as the visuals, and is from the brilliant mind of Mica Levi – who also brought us the scores for Under the Skin (2014), Jackie (2016) and most recently, Alejandro Landes's critically acclaimed film, Monos (2019).
Read more: These are the 25 best film scores from the past 25 years >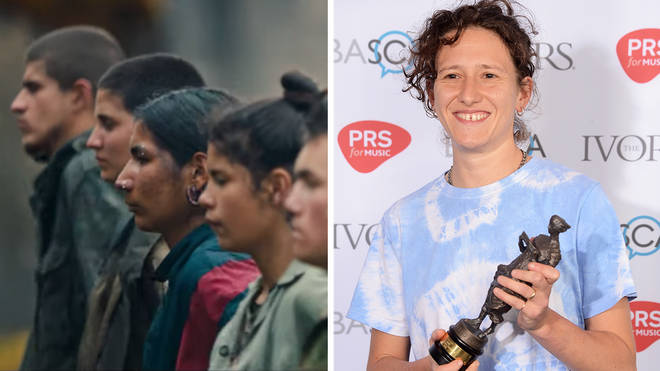 Who is Mica Levi?
Mica Levi is the composer and music producer behind the film scores for Under the Skin (2014), Jackie (2016), this year's Monos and Jonathan Glazer's short TV film, The Fall, which aired this weekend.
Also known as Micachu, Levi studied music at the Purcell School and Guildhall School of Music and Drama, and in 2008 was commissioned by the London Philharmonic Orchestra. She was the Southbank Centre's Artist-in-Residence in 2010.
The talented composer wrote her first film soundtrack in 2014, for Jonathan Glazer's Under the Skin, and like her next score, for Pablo Larraín's Jackie (2016), she's brilliant at writing music that interweaves tightly into the on-screen action.
Read more: Phoebe Waller-Bridge's real-life sister Isobel wrote the Fleabag soundtrack and is actually an amazing composer >
Levi has also written scores for the sci-fi Marjorie Prime (2017) and Monos (2019), a film that has scooped myriad international awards, including at Sundance this year.
The 32-year-old composer is no stranger to awards herself, being the recipient of two BAFTA nominations (for Under the Skin and Jackie), an Oscar nomination for Jackie, and a win at the European Film Awards for Under the Skin.
In 2018 she picked up an Ivor Novello for Best Original Film Score for Jackie.
As well as being a composer, Levi is a singer, songwriter and producer who leads London-based band Good Sad Happy Bad (formerly Micachu and the Shapes), and has a couple of recordings under her belt.
We're basically obsessed with her film scores and can't wait to hear more.