This violinist's E string snapped mid-performance… but he found a quick solution
6 September 2017, 15:47 | Updated: 6 September 2017, 15:55
You're in the middle of Britten's violin concerto, absolutely nailing your pizzicato, and BAM – you get an E string to the face. What's your solution?
Just another evening of fabulous pizzicato and the brilliance of Benjamin Britten, nothing funny going on here.
Maximilian Simon's violin solo is going great… if a little aggressive. But his strings can handle it, right?
Wrong.
STOP MAXIMILIAN, YOU'LL SNAP ONE ON THE NEXT PIZZ.
Aaaaaand the E's gone.
But being a total pro, Maximilian knows exactly what to do.
Except now, the first violinist's gone… will he ever come back? Will he find another E string-clad violin?
Of COURSE he will. And he's only come back with a newly attached E string for Maximilian.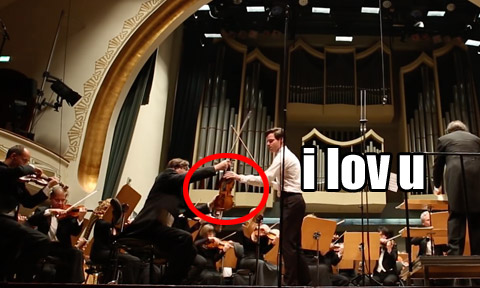 Maximilian, first violinist – you're both great.
Find more videos on Martin Teschner's YouTube channel.
Did this get you in the mood for more on-stage disasters? Of course it did.
Watch this tenor epically recover from falling off his chair mid-song