Busking violinist accidentally crashes into pedestrian, smashes violin
15 May 2020, 17:31 | Updated: 15 May 2020, 17:42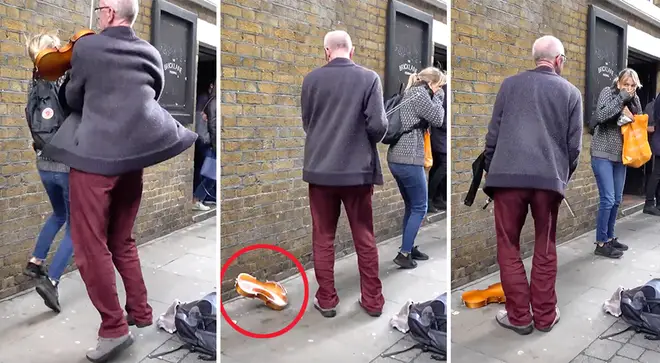 The heart-breaking moment a busker's violin was split in half after a pedestrian rushed past him, knocking it to the ground with her head.
A busker was playing his violin on a street in London, when a pedestrian rushed past and hit her head on the instrument (watch the incident at the end of the video below).
The pedestrian, unaware the busker is about to start dancing, rushes along the wall behind him. In a matter of seconds, his violin is knocked to the ground and split in half, the neck broken from the body.
The pedestrian covers her mouth, appalled. The video then cuts out, and it's unclear what happened next.
Read more: Spine-tingling 'Amazing Grace' rings out through streets by London hospital >
London. Dancing Violinist has Accident Smashes Violin on the Head of a Pedestrian. No One Injured
The most painful part: despite his instrument being rendered unplayable, the first thing the busker does is ask the pedestrian, "Are you OK?".
The title on this video, posted on YouTube in 2018, says 'No one injured' as a disclaimer.
… Except the violin.
Let's hope this busker was able to get his instrument replaced or fixed at minimal expense. What a terrible thing to happen.