This 'Wedding March' trumpet fail is the worst thing to happen on your special day
24 January 2019, 15:30 | Updated: 24 January 2019, 16:05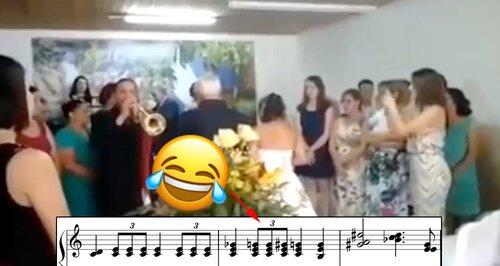 It is a truth universally acknowledged that wedding music fails are the lifeblood of the internet. And we think we might have found one of the most evocative ones yet.
On that special day, whether you're bride, groom or guest, you want everything to be perfect.
You've worried over outfits, dietary requirements, gift lists and transportation betwixt ceremony and reception. You've done enough. You do not want the musician to add to your worries.
You do not want this to happen:
Despite a few bum notes, he sort of gets away with it in the first few bars.
But then, he comes out of the triplets section and lands on that all-important fortissimo high C… and it all goes a bit pear-shaped. Here's a rough approximation of the notes:
Trumpet guy, we applaud you for your efforts.