A piano cover of TikTok's 'Coffin Dance' meme song is sending the Internet into meltdown
5 May 2020, 17:25 | Updated: 5 May 2020, 21:40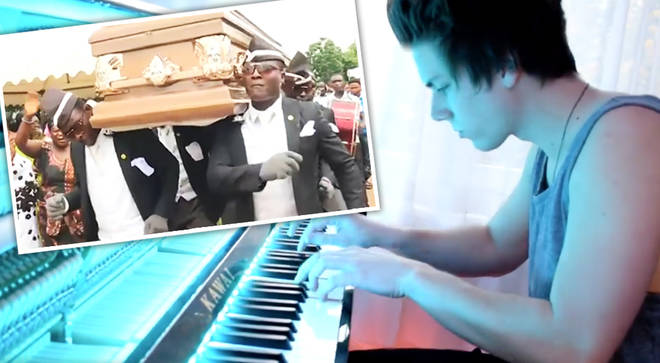 Now musicians are jumping on the TikTok 'Coffin Dance' trend... this beautiful piano cover of the catchy EDM track behind the viral video has been watched by millions.
There's a darkly humorous meme sweeping the Internet and dominating everyone's TikTok feeds, that is based on a group of dancing pallbearers from Ghana.
The 'Coffin Dance' has become the unlikely soundtrack to the coronavirus pandemic, with everyone from teenagers to police posting versions of the TikTok video online to dissuade people from leaving their homes.
And now, the viral song has been turned into a lush piano fantasy. The cover, played by pianist Peter Buka on an illuminated piano, was posted on Thursday 30 April and has been watched by more than four million people on Facebook (watch below).
The 'Coffin Dance' song is actually a 2010 EDM track from Russian composer and artist Tony Igy (real name Anton Igumnov) called 'Astronomia'.
Read more: Music teacher creates unexpected quarantine-inspired TikTok song >
It's a catchy and immediately timeless tune, with minor tonality to suit the macabre but humorous meme it now accompanies. Here's the meme video, with Igy's track:
As with all good memes, the 'Coffin Dance' has been replicated in plenty of ludicrous versions all over the Internet.
There's even a medieval version complete with trilling recorders and lilting lutes, which we will definitely be needing as our new ringtone (if those things still exist in the age of TikTok). Watch below...
Read more: The 'Shame Flute' was used to punish bad musicians in the Middle Ages >